Happy new year to you all, I hope 2018 will bring you much happiness. In today's post you'll see a selection of crystal ball posts from 2017, a look back on the past that can inform your future. Who say's crystal balls can't be used to tell the future! There were many opportunities to travel in 2017, with ten countries visited. Now you'll get to see some new locations photographed with the crystal ball, so enjoy the following selection.
1 – Myanmar – Shwedagon pagoda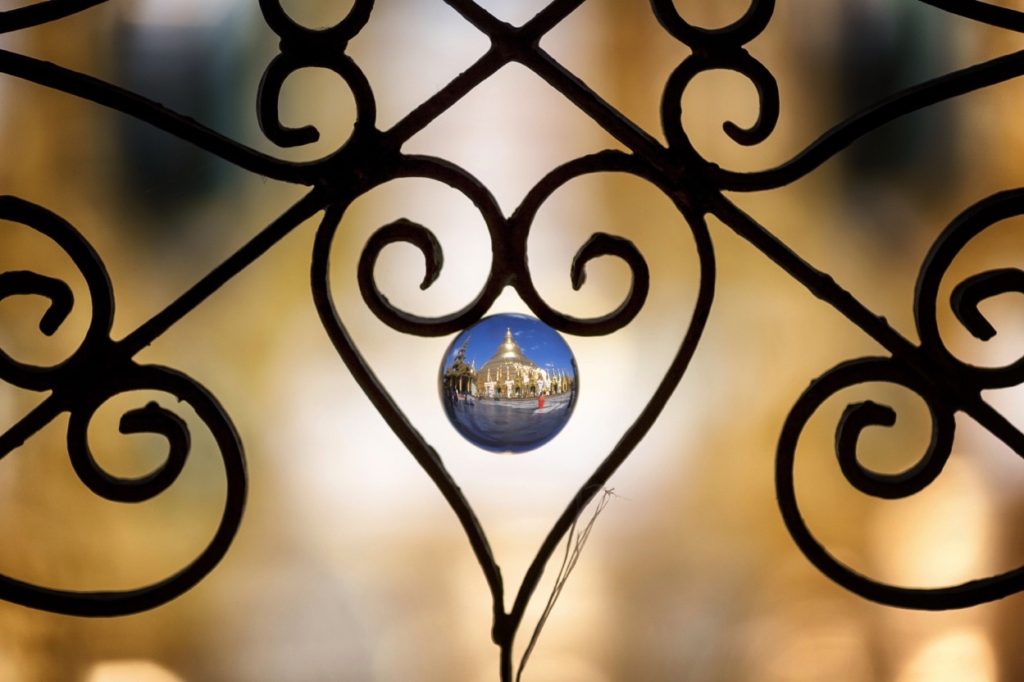 This was one of the first photos I took in 2017, it's still one of my favourites. The crystal ball in this photo is resting on a fence, the balance was precarious but it lasted for this photo. This photo shows the advantage of carrying varying sizes of glass ball, as this photo would not have been possible with a larger orb. The way the ball has been framed by the swirling design of the fence works especially well here, and the ball appears to sit in the centre of a heart shape. This for me gave synergy to a lot of the symbols I attach to the glass ball.
2 – United Kingdom – The London eye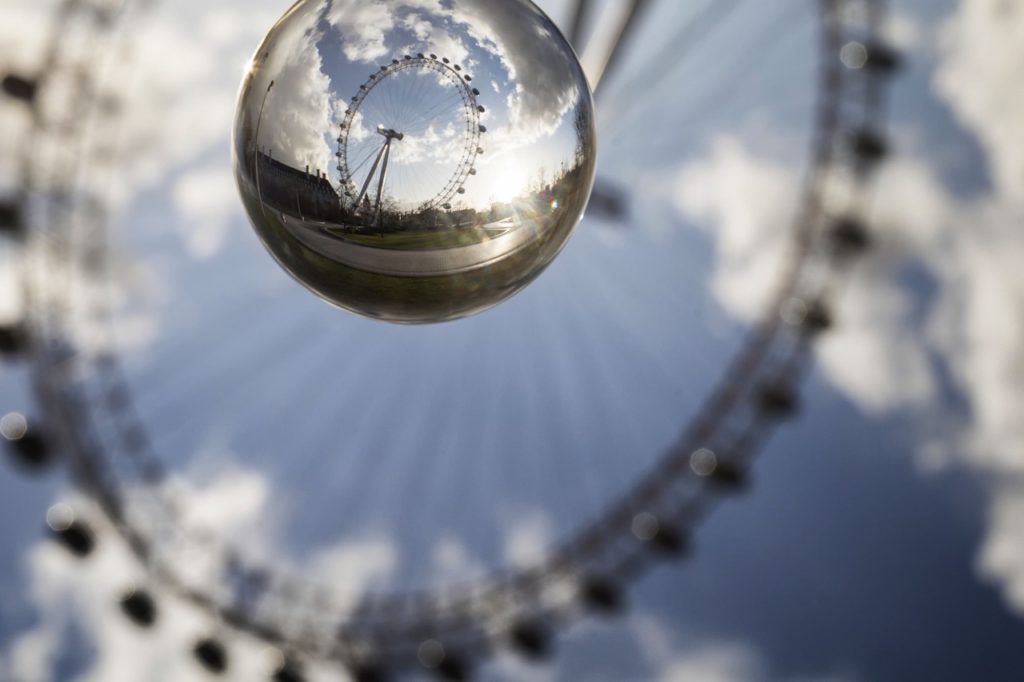 Life is a a cycle and things come and go, the good and the bad. It was great to visit home not once but twice in 2017. I even got to meet some old university friends that I hadn't seen for more than a decade. It was really nice to meet them, my other friends and of course family when I was back home. Another thing that cycle are trends, and many people are telling me crystal ball photography is on the upward curve. I think 2018 will show if that's true, I'm excited for the future though.
3 United Arab Emirates – Dubai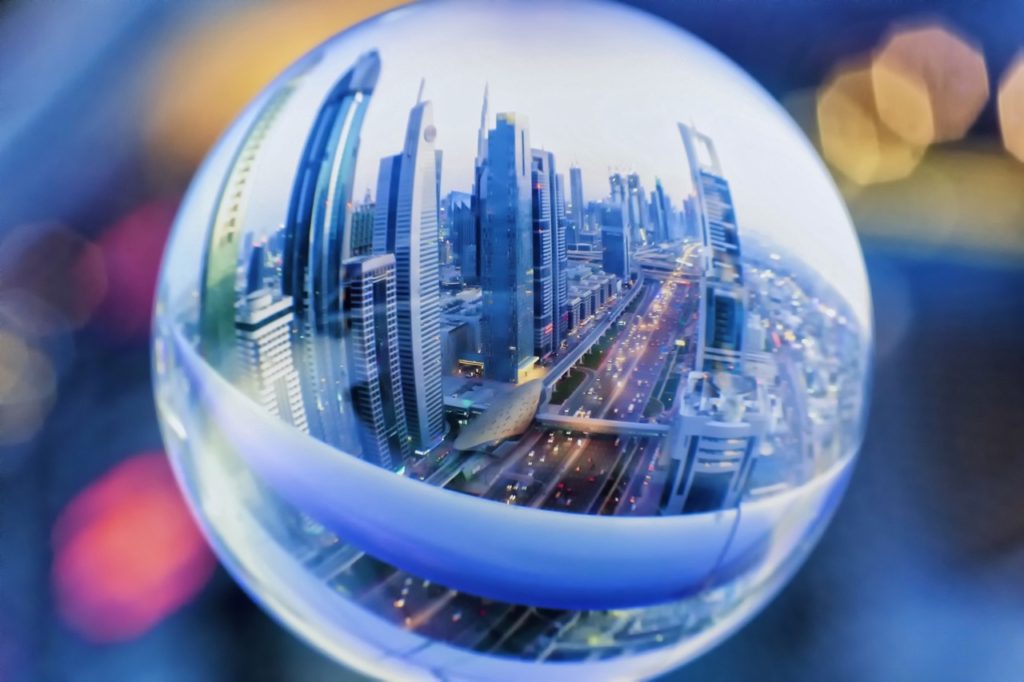 Dubai is where you want to go if you want to see what a modern city can look like, it's really and urban photographers dream. It's also where my sister lives, and on my way back from the UK I made a stopover to see her. It was also great to meet some fellow photographers to head out for a night in the desert to photograph the milkyway. This photo was taken from a rooftop bar in Dubai, that overlooks some amazing skyscrapers. I took my crystal ball for a spin, and came back with this photo, this composition harks back to my very first photos with the ball.
4 – United States – New York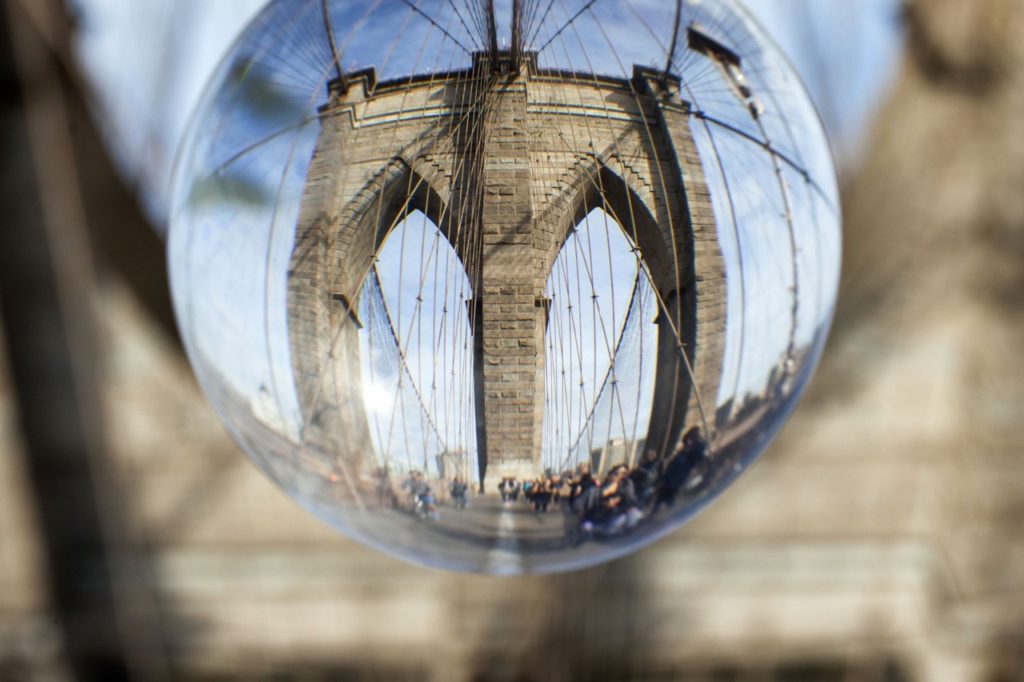 Since I started photographing with the crystal ball the ambition has been to photograph famous landmarks with it. Working with travel for teens has given me many chance to travel this year. One such chance was to visit the people who run this company during their training in the US. Prior to that training there was time to explore the US east coast, and of course New York. It was great to meet one of my campers from the 2016 Australia trip whilst there. This photograph of the Brooklyn bridge was taken hand held, and I used the arch of the bridge to frame the ball.
5 – United States – Boston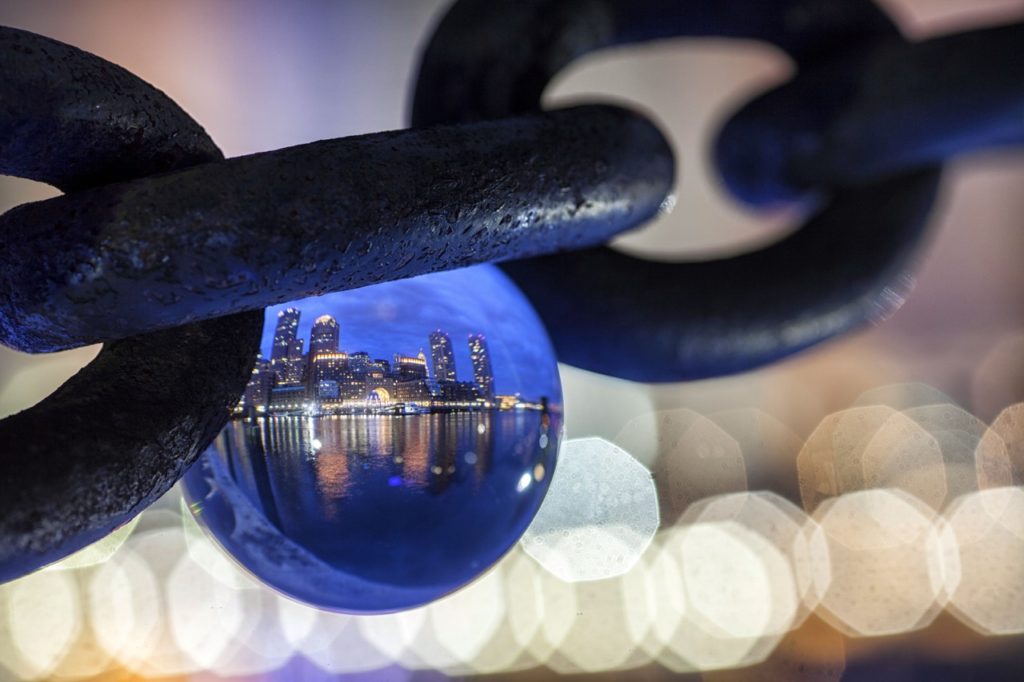 Next on my list of destinations to visit was Boston. This was a new place for me to visit, so I did some research before visiting to find the popular places to photograph in the city. A search on 500px brought up the location you see in this picture, but the photo I got here was quite different. The typical photo uses the chain fence as a leading line at the bottom of the frame. In my photo I found the link chains in that fence made the perfect place to rest my ball. This photo while taken from the same place as many other photographer has a unique feel.
6 – United states – Washington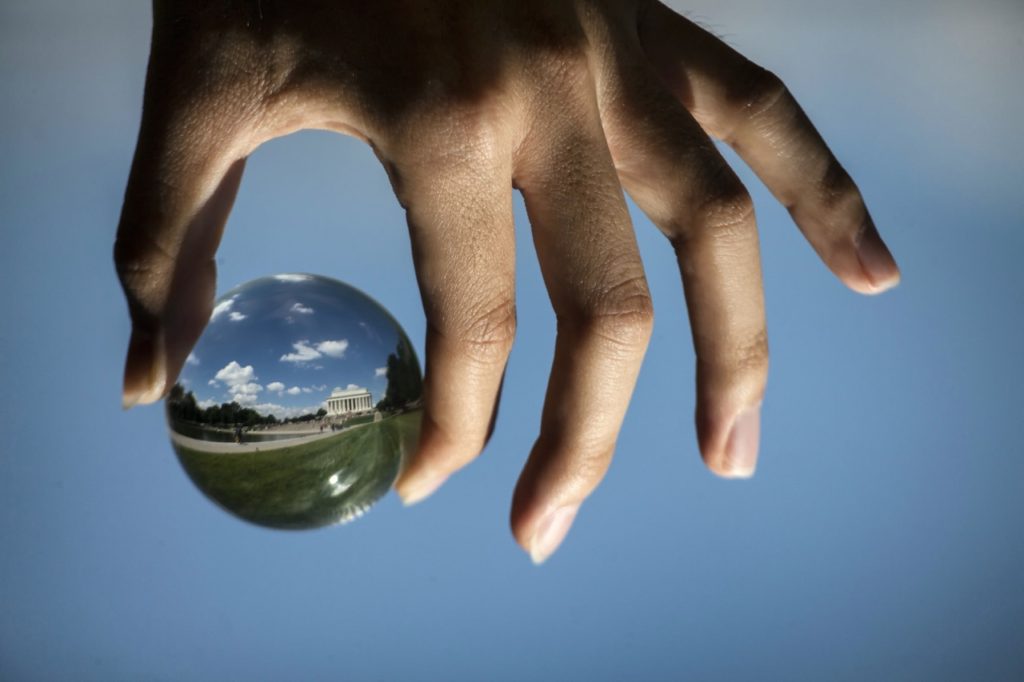 If you're looking for symbolism for 2018 then this is a Korean's hand holding Washington in their hands. Thanks to my friend who held the ball for me. This is a fairly simple composition, minimalist in feel. I like the cotton white clouds in the sky, the green grass, and the feel of the world inside a glass ball. So that's three in a row from the US. I really looked to build my portfolio of images whilst there, something I know publisher are looking for.
7 – Italy – Rome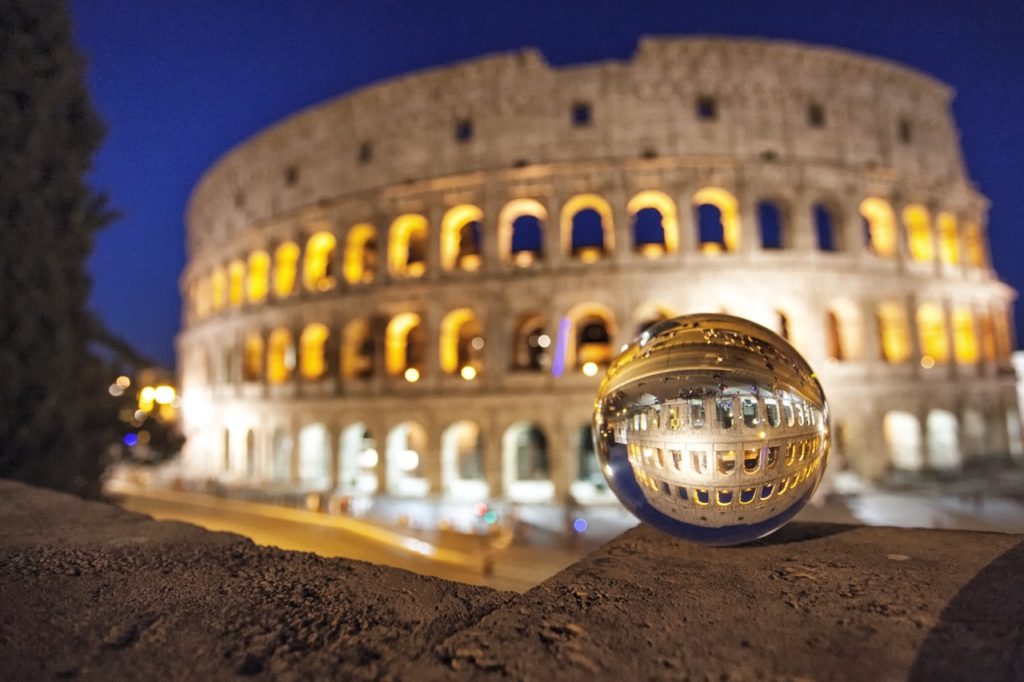 I really must thank travel for teens, as the trip I made in Europe was because of them. Earlier in the summer I had taught a group of teenagers about photography, while taking in Tuscany and Venice. The work done, I was on the road and heading for Rome! Once again here was an iconic landmark, and a chance to capture it inside the glass ball. I went for a much wider photo this time, that adds a bit of variety to these type of photos. What an amazing place Rome is.
8 – Italy – Riomaggiore, Cinque Terre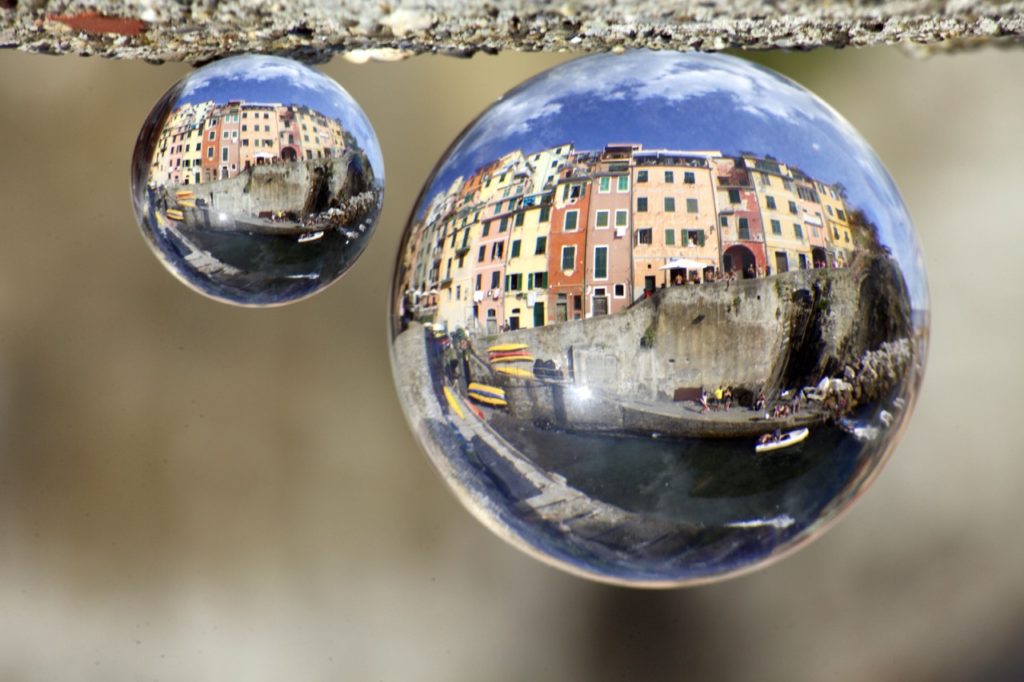 The Cinque Terre coast line in Italy is among the most beautiful I've ever seen. The opportunities for landscape photography here are many, not surprisingly I met several other photographers with the same idea. Could I get some nice photos with the crystal ball, sure I could! The little villages that dot the coast each offered different kinds of photographic options. In this photo the close proximity of the buildings, and the way they scale the side of the coastline allowed them to fill the inside of my crystal ball nicely.
9 – Italy – Manarola, Cinque Terre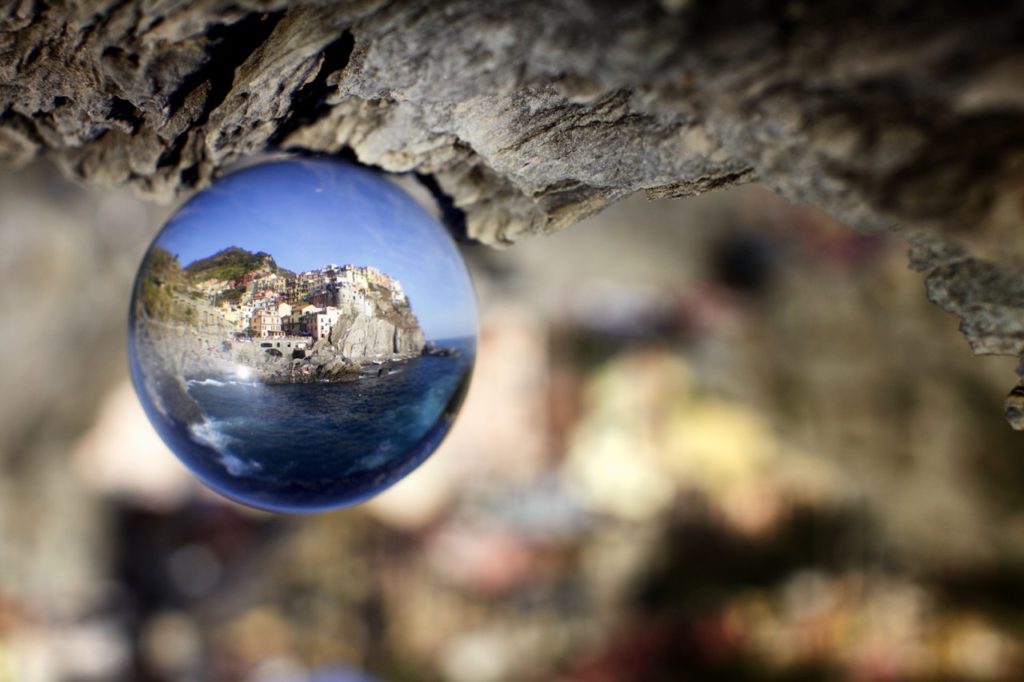 The scene in the glass ball is one of the most photographed in Italy. I've seen this scene so many times, and wanted to capture it inside my glass ball. I visited this place three times during my trip to Italy last summer, I never got bored of it. It doesn't hurt that the gelato is amazing, as it is throughout Italy. So what did I get from my return visits? Well first I discovered the gate that allows you down onto the rocks, this photo would not have been possible without that. Then the third trip was when the light would be better on the town, and hence show up more inside the glass ball.
10 – South Korea – Bulgapsa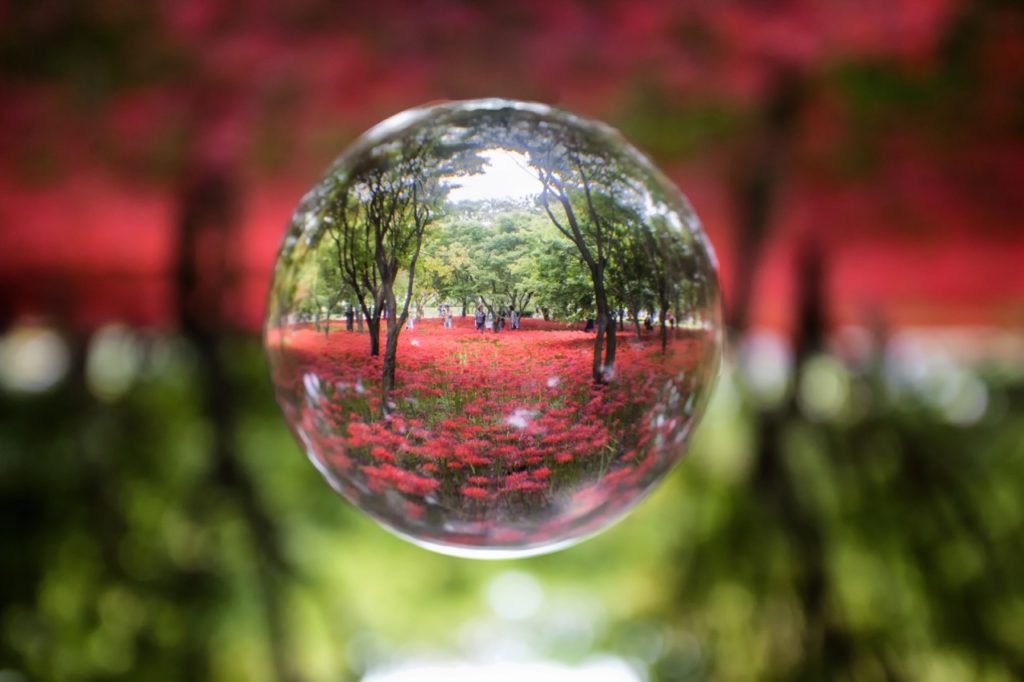 There are not so many photographs from where I live from 2017, which is South Korea. Partly that's because I traveled, partly because I already have those photos from previous years. There is always something new though, and take this photo from the Bulgapsa temple in South Korea. The Lycoris Radiata flower is really beautiful, and the flower bed it creates at this temple during Autumn is incredible. In this photo I used a technique where the glass ball floats mid-air, would you like to try the same photo? You can learn how easily by getting my crystal ball photography course – "Globalise"
Crystal ball photography in 2018
There are exciting developments in the pipeline for the upcoming year. This blog will become much more active. A combination of travels, and writing for digital photography school left me with less time to blog. That's all about to change, and with the partnership I have to sell glass balls, and the re-brand of my video course "globalise" it all points to exciting times ahead. Do you want some special offers for that course and other packages coming your way at creative photography school? Then please sign up for my mailing list below for all the latest offers.

We value your privacy and would never spam you