The blossoms have been and gone in South Korea, and I've been out photographing some of the best places near to where I live. I thought it would be great to make a small gallery of some of the photos I made, using some creative camera techniques! I hope you enjoy this gallery, and are inspired to find out a little more about the way these photos were created. So now scroll down and enjoy my favourite ten photos from spring 2018!
1 – Spring photography at Seonam temple.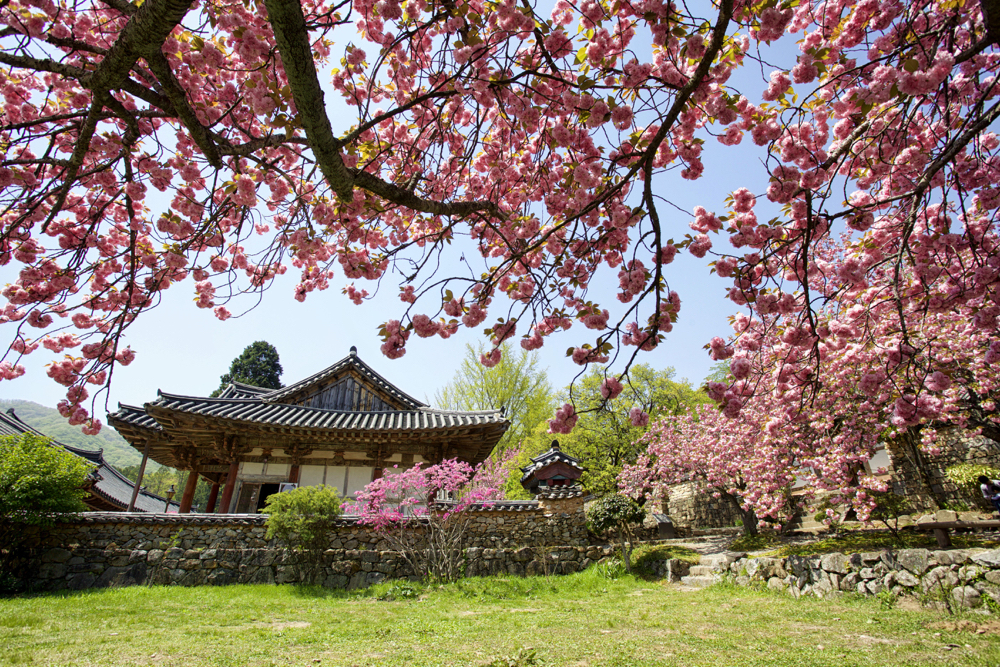 Setting the scene for your spring photography with elements in the frame that signify place is a great way to begin your Spring photography. In this photo a wide angle lens was used to include the blossoms at the top into the frame, and they have nicely framed the temple building in the lower portion of the frame. Good composition is the starting point for all nice photos.
2 – Nature comes to life.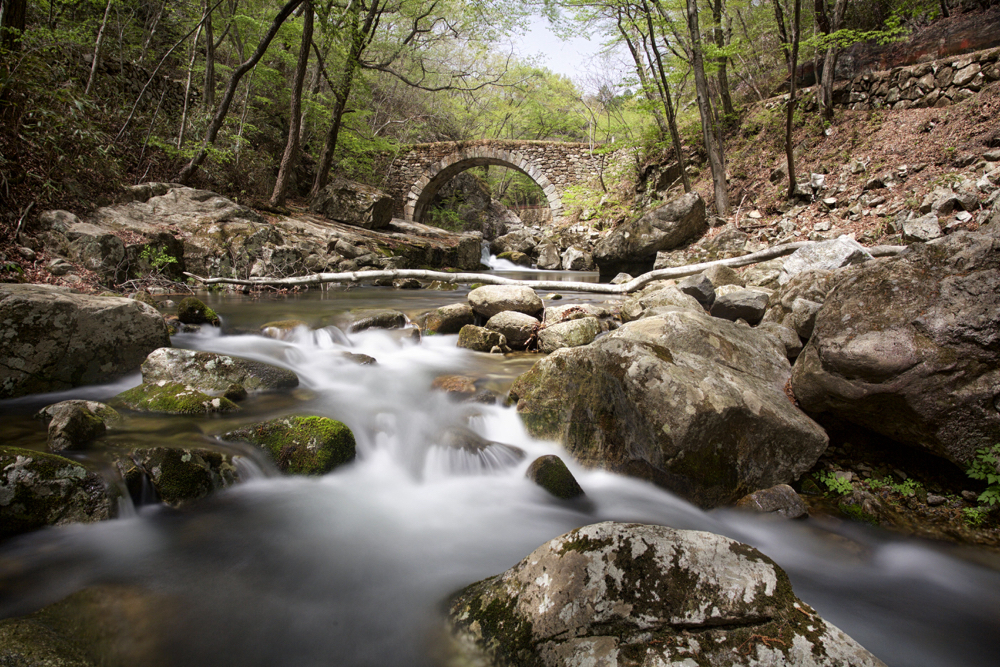 Not all of these Spring photos contain blossoms, but yes actually most of them do! Spring is also about fresh green leaves in the woodland areas of your country. Here I've composed a photo where the river leads up to the bridge in the background. The creative element? To take this photo you'll need to use a very strong neutral density filter to allow for a daytime long exposure. A little digital blending was also used to balance the light levels across the frame, I hope you enjoy the result!
3 – New life, New hope.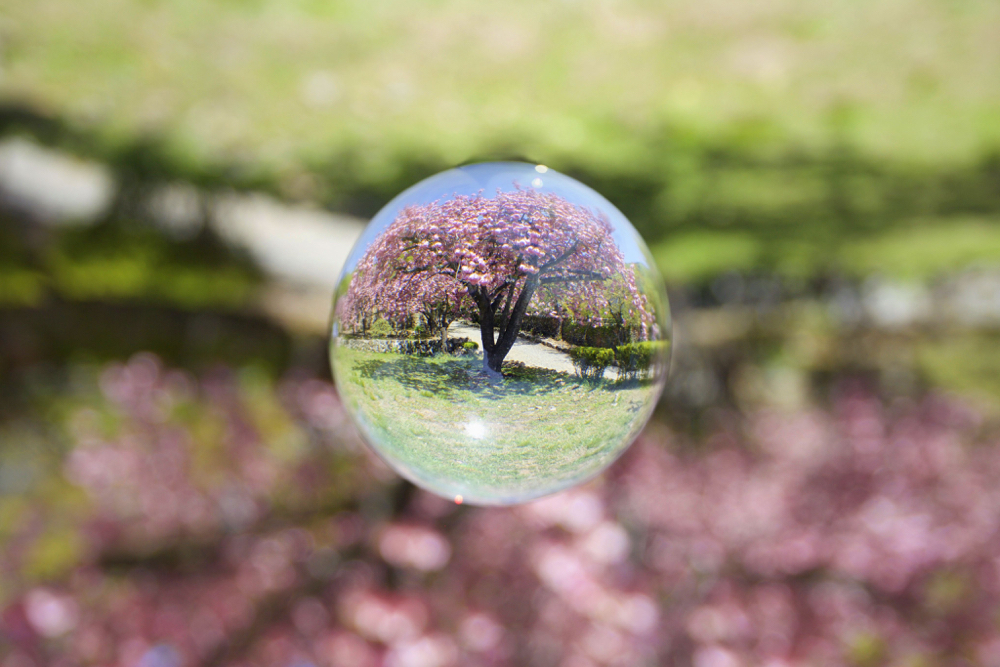 Well it simply wouldn't be creative photography school without a crystal ball photo would it! Here you can see the entire cherry blossom tree captured inside the ball! The scene is complimented by a pleasant background that shows the blossom petals as blurred out bokeh. Do you want to learn how to take photos of a floating ball? Don't forget you can find out this and much more by getting the video course "Globalise".
4 – Cherry blossom road.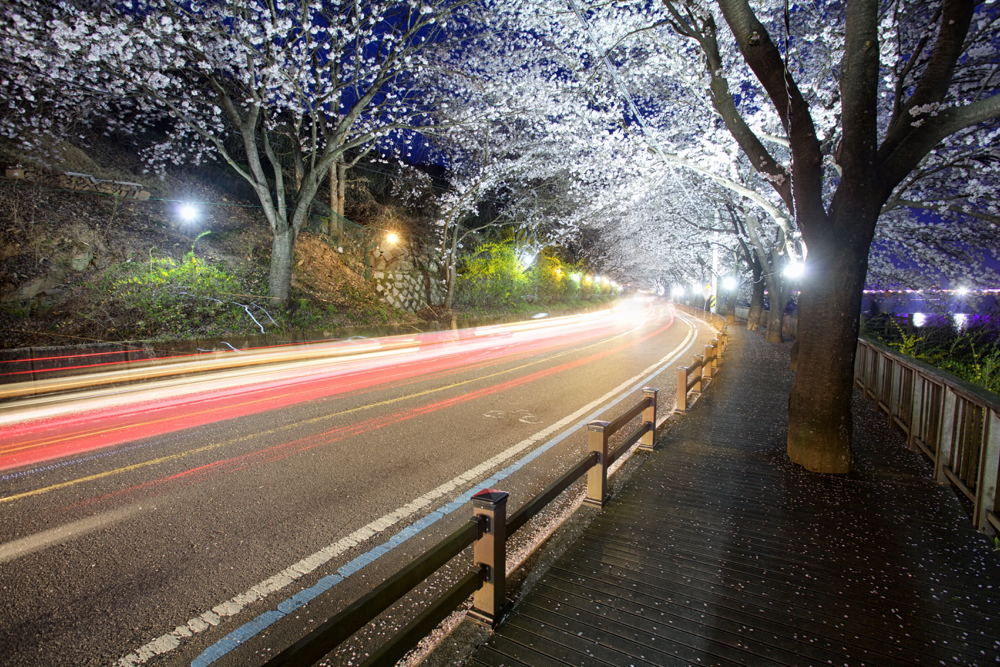 It's a real pleasure to drive along a road lined with cherry blossom tree's. It's an even greater pleasure to practice your Spring photography in such a location. In this photo a long exposure has been used to create car light trails to the left of this frame. The road in combination with those light trails makes a strong leading line right through this frame.
5 – Spring photography reflections!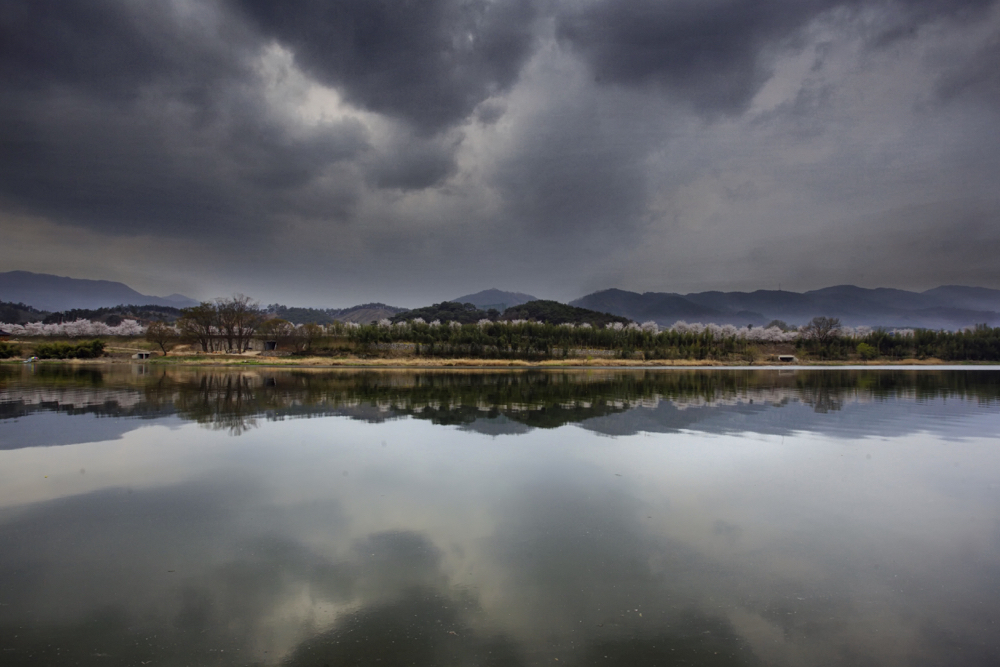 A spring day with blue skies and cotton white clouds? Well I didn't get that, but a still day with a perfect reflection was just as good! Do you want to enhance your reflections? How about using a circular polarizing filter to do just that! This is what I did with this photo, and there is also some digital blending to control the exposure level of the sky.
6 – Cherry blossom girl.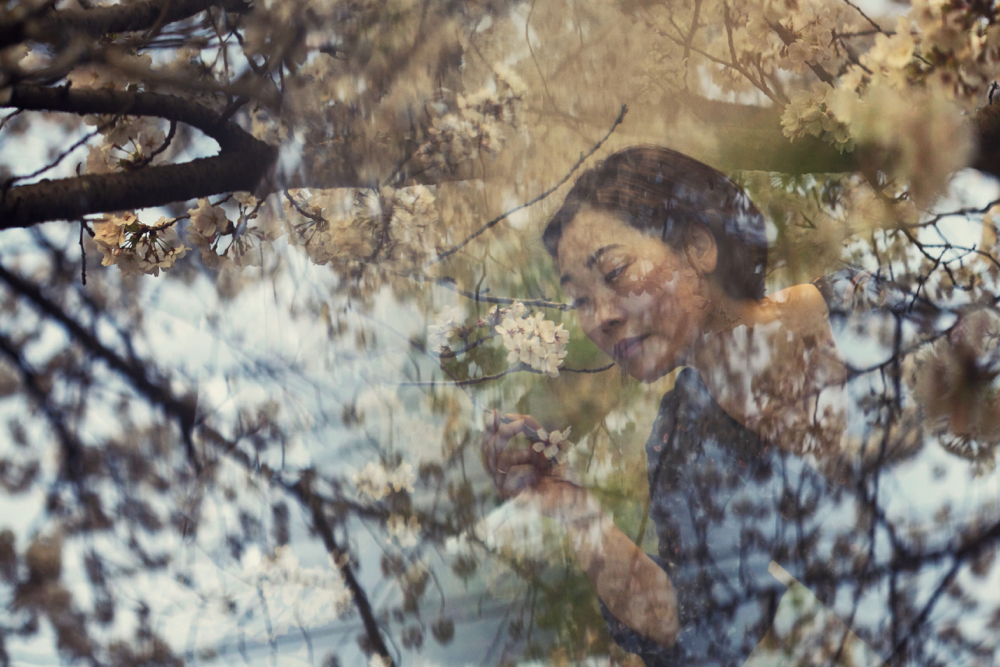 Is that photo shop? Is that a double exposure? The answer to both of these questions is no! This is a new photography technique which I'm pioneering, and will reveal to you all in the future. This shows you the creativity you can make with a single frame, that is straight out of the camera. The post processing involved with this picture was making the colours more vivid, and adding some more contrast, but that's it!
7 – Pink flower blossom.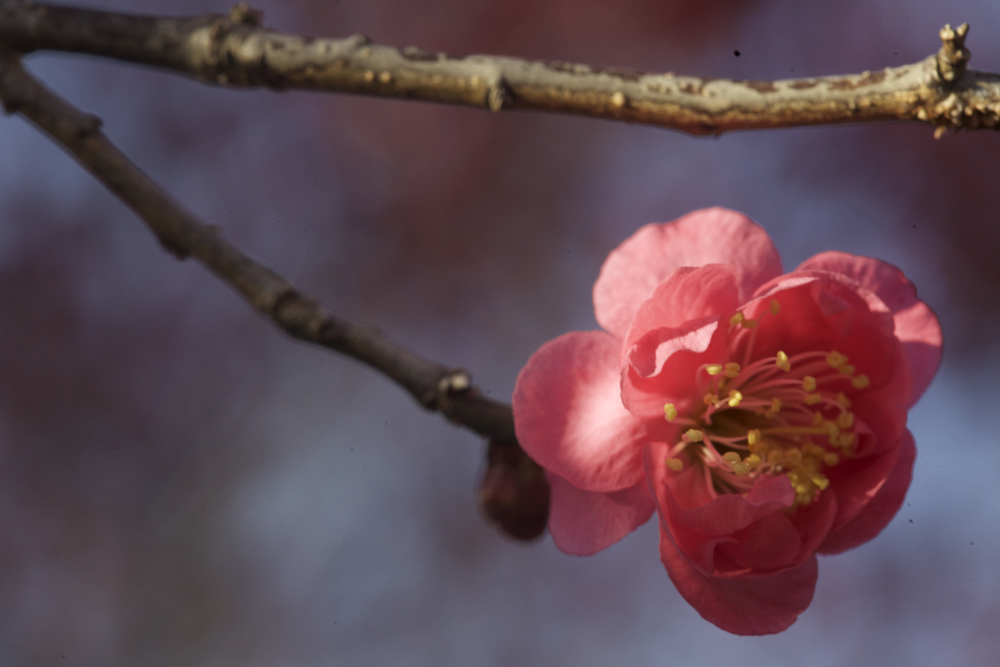 It wouldn't be cherry blossom season without one macro photo of a flower. This photo employs the simple technique of subject isolation, and a blurred out background. In order to make this image stand out even more the pink blossom has been positioned against the blue background to really make it stand out in the frame.
8 – A gentle stroll on a spring day.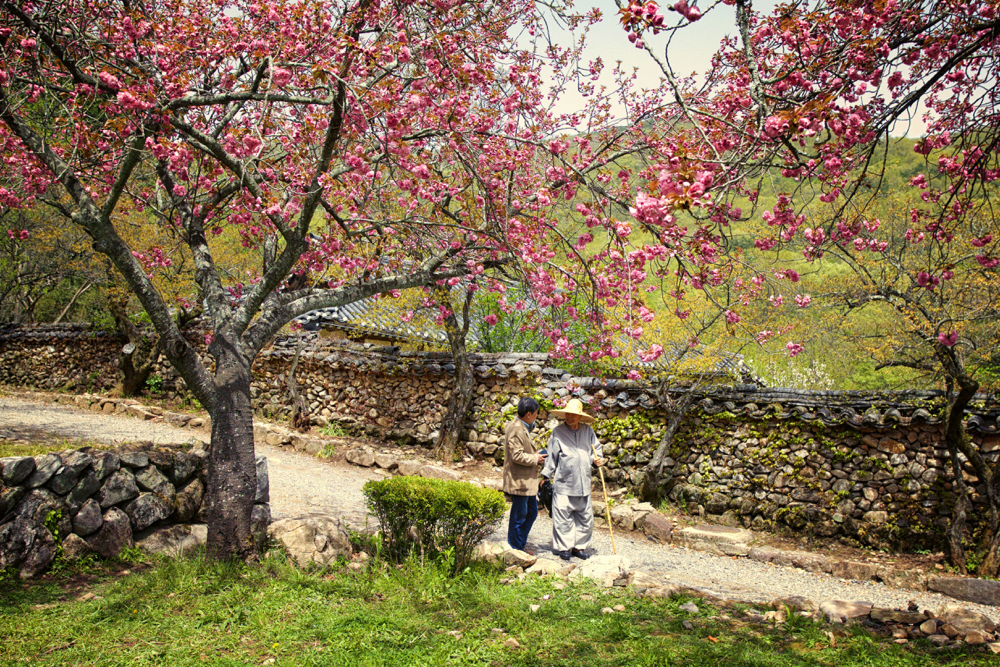 Photography doesn't have to be complicated, in fact keeping things nice and simple often works very well. In this photo you can see a well composed photo. The wall and path provides a strong line that runs through the frame, and the tree to the left sits on the left third of the frame. This photo was composed using the rule of thirds, all that was needed was a story to bring it to life. This was simply a case of waiting for some people to walk along the path. Moment of capture can sometimes be about just being patient, and waiting for the moment.
9 In your own world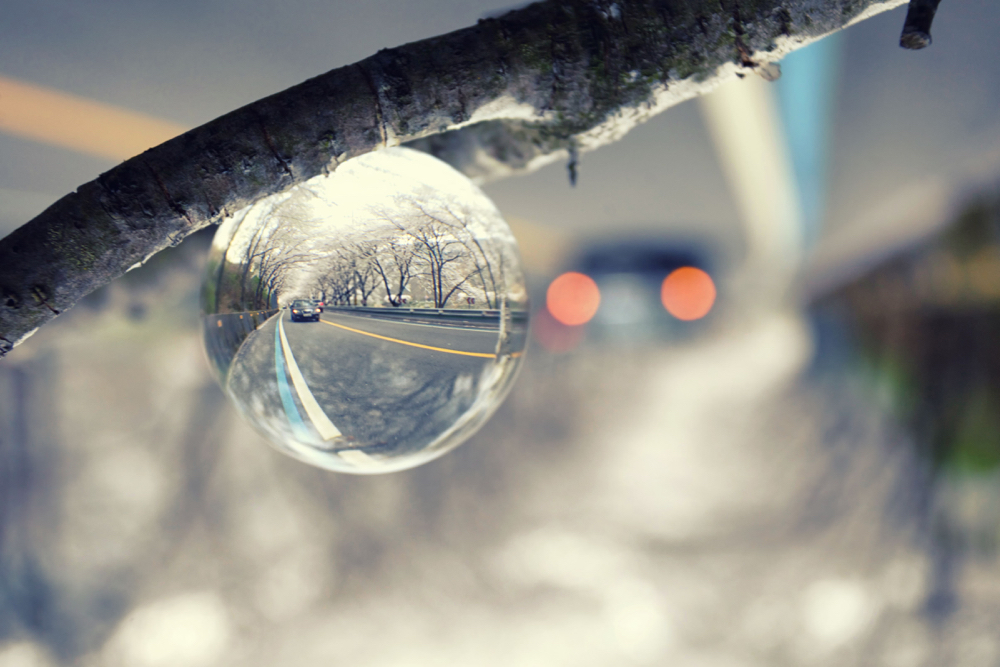 One of the key ingredients of a good crystal ball photo is knowing where to place it. Many people choose the hand held route, but there are creative alternatives. In this photo instead of hand holding the ball a branch has been used. Was the branch already in the correct position? No, in this case a stray branch was found, and then held out by hand, with the ball resting on the branch! So this photo is in fact handheld, but it doesn't look that way because the hand is out of frame!
10 – Spring is here!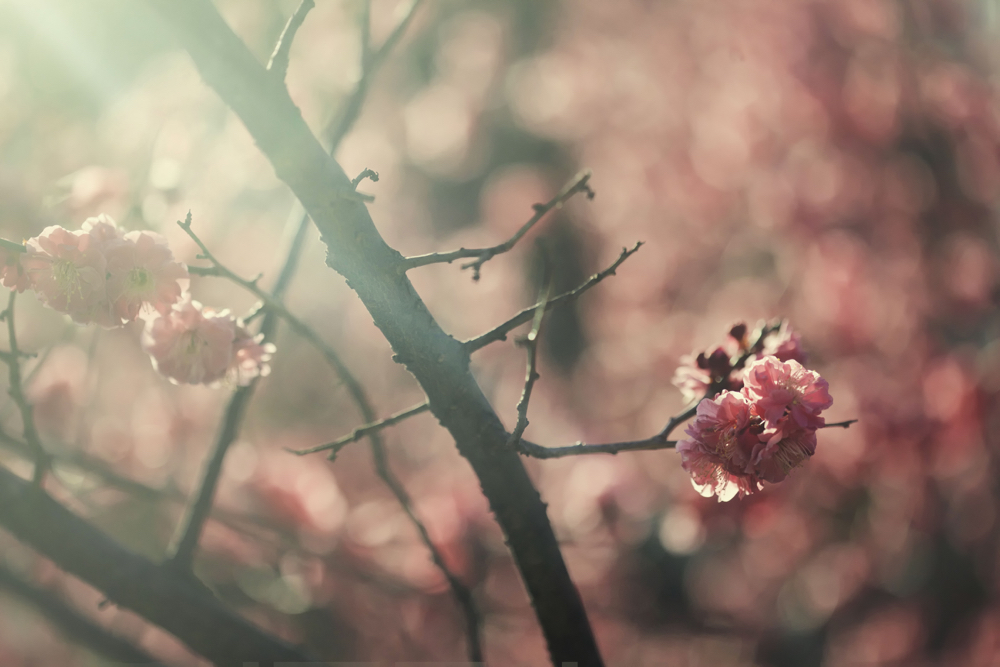 The last photo in this gallery is a nicely lit photo with a pink bokeh background. In this photo I wanted to let some light seep into the side of the frame, and pick up the light shining onto the petals in the background. To create this look you'll need to photograph towards the sun, and have the sun just out of frame, so some light rays filter into the photo. Past the use of the sun, this is just a simple frame of some pink blossom flowers. The background harmonizes nicely with the main subject, and the pinks and dark browns give the photo a minimal feel.
---
Do you want to go Global!
Here at creative photography school I've created a course all about crystal ball photography. I've a wealth of experience in this niche genre which I want to pass on to you. I hope you've enjoyed this blog, and if you want to learn more then this is a great course for you!
Why not download the course today, and by subscribing to my mailing list below you'll be able to take advantage of my discount code!
---
Did you enjoy reading this article? I'd love to hear your comments below, and you can also join the mailing list. By joining my mailing list you will receive all the latest information on products and promotions here at creative photography school.

We value your privacy and would never spam you