Those landscape photographers who reside in big urban centres gravitate towards big cityscape photos, and sooner or later this will have them climbing the floors of tall apartment buildings looking for the best vantage points in town. It's a trend that has become increasingly popular in recent years, though with this saturation of the roofs has come a clampdown by those looking after the roofs. In this blogs I'm going to look at why you'd go through the hassle of getting onto a roof, how to behave if you're lucky enough to get on a roof, and finally the methods you can use to reach the rooftop.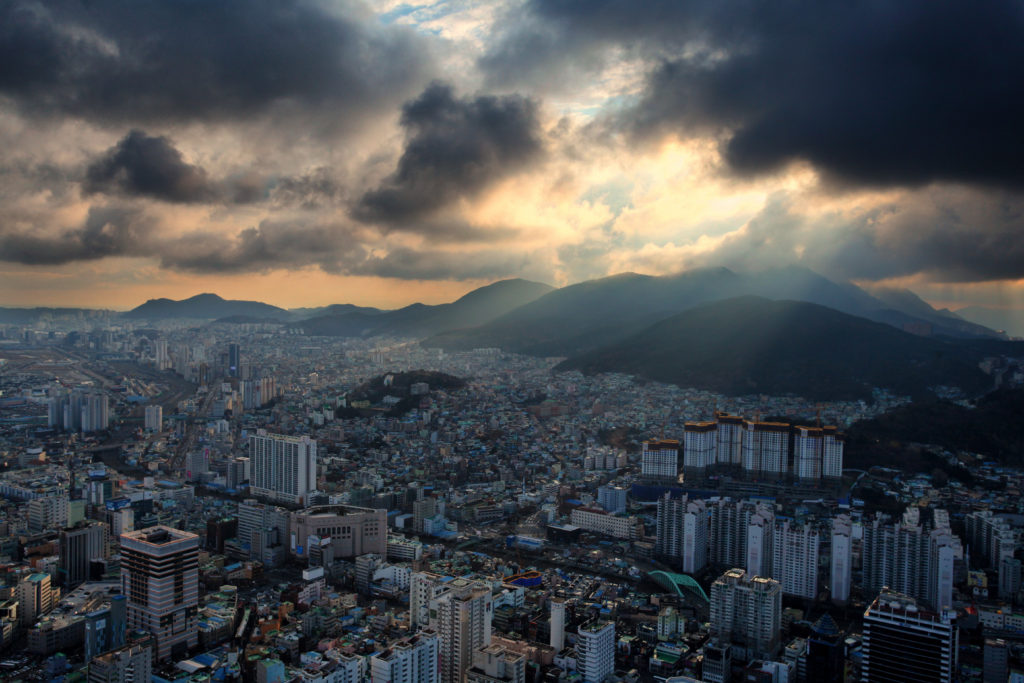 Why take photos from a roof?
The main reason to taking photos from a roof top is that you get a great vantage point without distracting elements coming into the frame, so long as your rooftop is not near to other high buildings that are higher than your roof. If you're interested in exploring your urban environment there are alternative such as a worms eye view, or perhaps taking a view of your city from a distance; roof topping though gives you the chance to use your wide angle lens to create a big booming cityscape. It may well also afford you the chance to use long exposure to photograph car light trails, especially if your roof overlooks a big junction, or perhaps a bridge going over a river.
Roof topping behaviour
If you're lucky enough to reach a roof top enjoy the experience, and don't leave signs that you were there. There is already a move in many countries to stop people going onto roofs, this in part is due to the behaviour of those that have got onto roofs before. The first thing to be aware of is your camera gear, I've heard stories of cameras falling off the top of high rise buildings.  You'll want to prevent this both because loss of camera gear is expensive, and you could well get in trouble with the law for the damage caused. Wind will be stronger on the top of a roof, it only takes a gust of wind to blow over a tripod. It's worth strapping your tripod to the railings, or at the very least holding onto your camera strap at all times. The other thing that some people find tempting are the dare devil stunts on the top of these roofs, stunts that often find there way onto national newspapers. The temptation then is to push the stunts even further, because people have got massive exposure in newspapers; however people do fall off roofs and there's no sexy newspaper coverage of this, only countries promising to ban roof topping. Roof topping is fun, think about your actions and try not to spoil it for everyone else.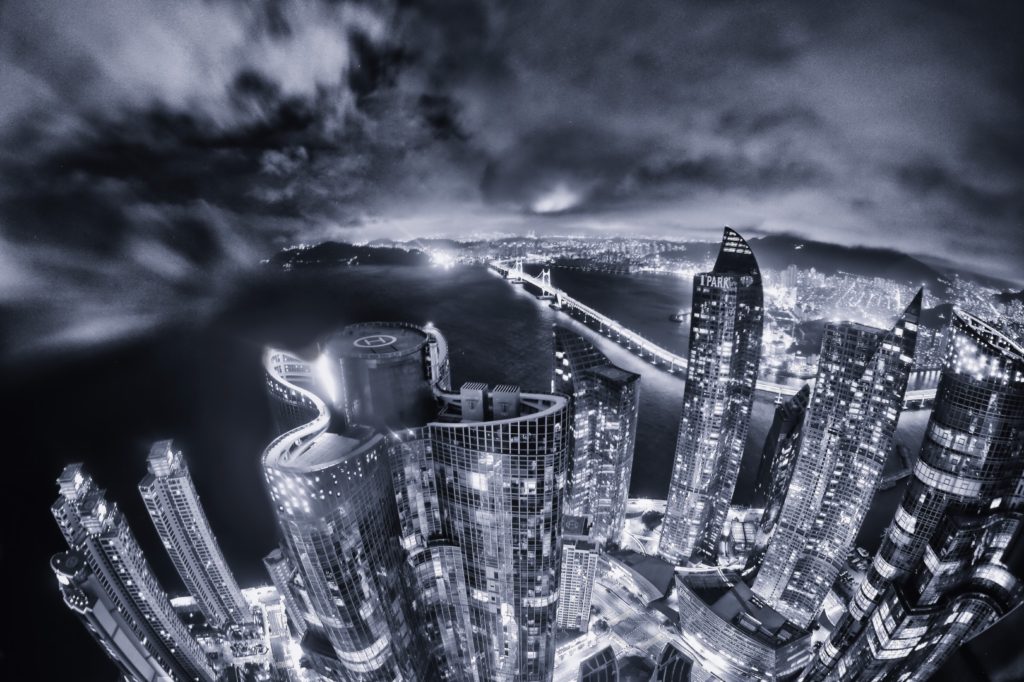 How do you get onto the roof?
This of course is the real trick, do you ask permission or use the more clandestine approach? This is a judgement call rather similar to asking someone permission to take their photos when doing street photography, and requires research to get the right answer. It has to be said getting official permission to access a roof is always better, in some case paying a little money maybe needed. If you choose to go the "unofficial" way onto the roof there are several strategies to keep in mind.
Keep your appearance as simple as possible, and carry regular backpack. If you walk past a security guard with a tripod visible they might wonder what you're planning to do.
Research your building prior to getting onto the roof. You can use google maps to do this remotely to narrow down the buildings you'd try. Then visit the location in person to get a feel for the place, noting entrances and any security guard locations.
If the entrance to the building is an open door great; however many have a security code/key card system. In this case wait for someone to open the door, and before the door closes follow them in. You'll obviously want to make this look as natural as possible.
Once in the building proceed to the lift, if the lift is also operated by key card you might be unable to reach the roof. Once in the lift go to the floor just below the top floor, it alerts less attention. Now you'll need to find the fire escape.
Walk up the fire escape, and with luck you'll find the access door to the roof. If you're lucky the door is unlocked. If the door is locked respect the fact you can't access the roof, and if you haven't done so already consider approaching the owner of the building to ask permission. Roof topping can be a frustrating experience, you're likely to be locked out on many occasions.
Hopefully you made it to the roof, have an amazing time there. To ensure you don't get trapped on the roof though be sure to wedge something on the rooftop door to prevent it closing, you might also need to do this with the fire escape doors. If you are roof topping with a friend you can check to see if a door can be opened from both sides by having only one person going through the door, and checking this very important detail.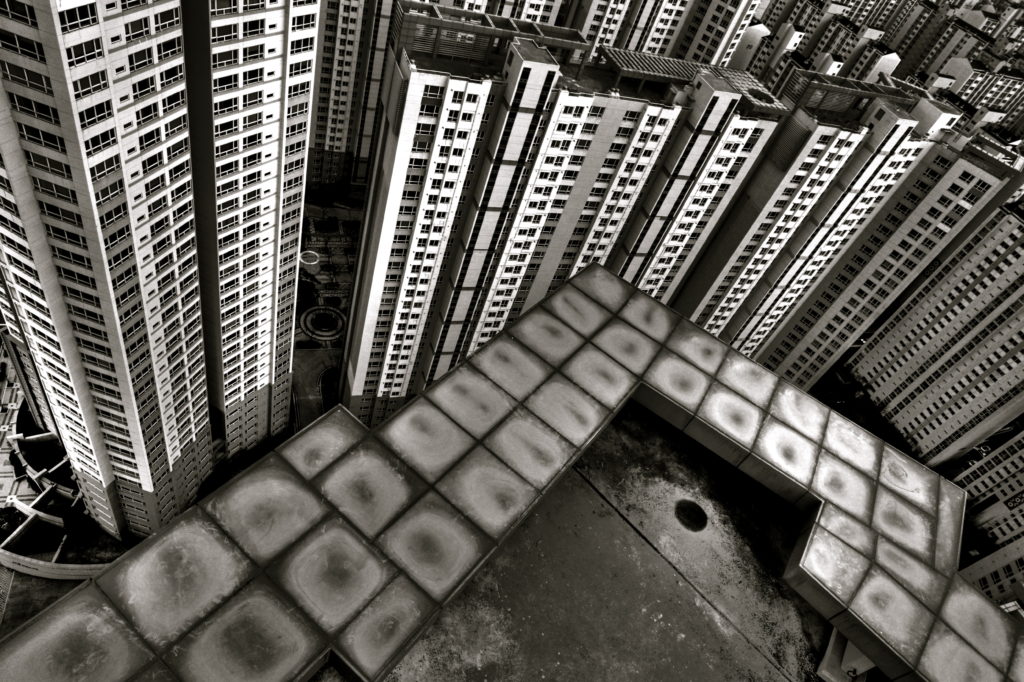 Taking the photo from the roof.
The hard part in roof top photography is really getting onto the roof, the rest should mainly be straight forward. In the majority of cases people like to shoot cityscapes from a roof during blue hour, this guide will assume this is the time you'll shoot. If you shoot more in the middle of the day using f8 as an aperture, setting up on a tripod and bracketing your exposures is recommended.
Set your camera on a tripod, and make sure it's secure. Use strapping to secure the tripod to some railing, or if you have a clamp use this to clamp the tripod or camera to the railing.
Arrive around 30 minutes before blue hour begins, if you need to wait to access the roof then arriving earlier is recommended.
Now compose you photo, and focus. To focus I suggest using live view and manual focus, zooming into a structure in the middle distance and focusing on it to make sure it's sharp.
Bracket your exposure at +1, 0 and -1 exposure values. If there are bright city lights in your frame you may need to bracket at lower exposure values as well. Digital blending should then be applied in post processing to get your final result.
If you're photographing traffic you may need some additional frames that just expose for the traffic as well. For more information on photographing traffic light trails you can look at my previous blog here.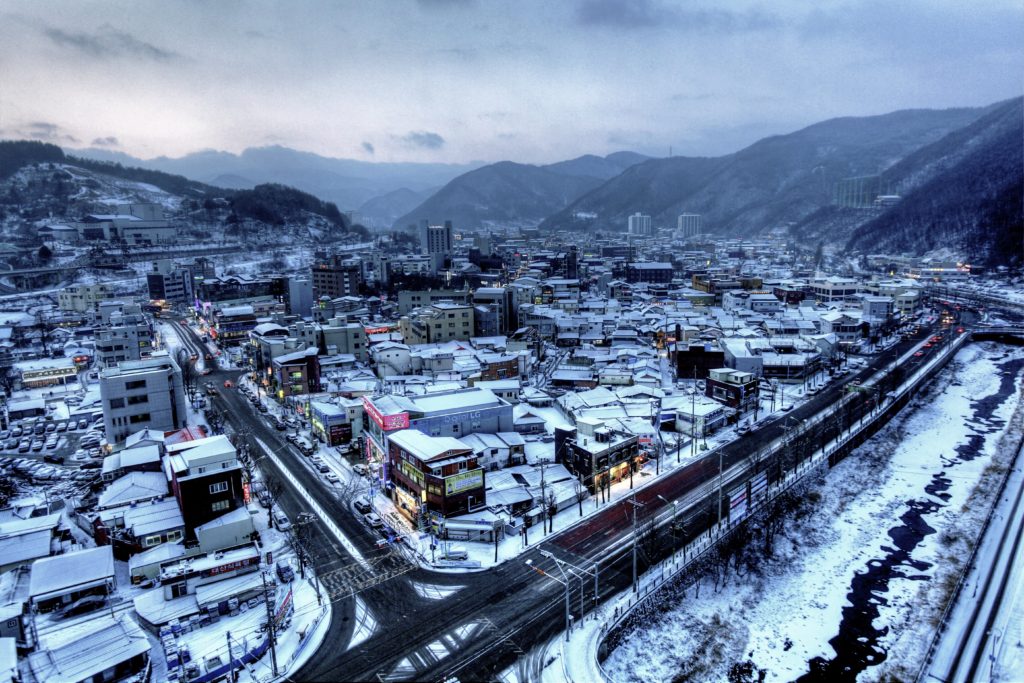 I hope you have enjoyed reading this blog, and learned something that can improve your photos. Remember to stay safe on roof tops, and leave no sign of your presence!

We value your privacy and would never spam you