Last week you would have seen what you need to do to take an infra-red photo, but that's only half the job and now you're going to see how to do the post processing side. If you followed the advice given last week you will now have either a image that looks red/pink or one that looks white/sepia. Those that shot with AWB will now need to following post processing steps for that setting, and those with a white/sepia image will need to follow the steps used for the custom white balance. In this tutorial you'll see the same location shot in both custom and AWB white balance, and how these images were converted to the final image.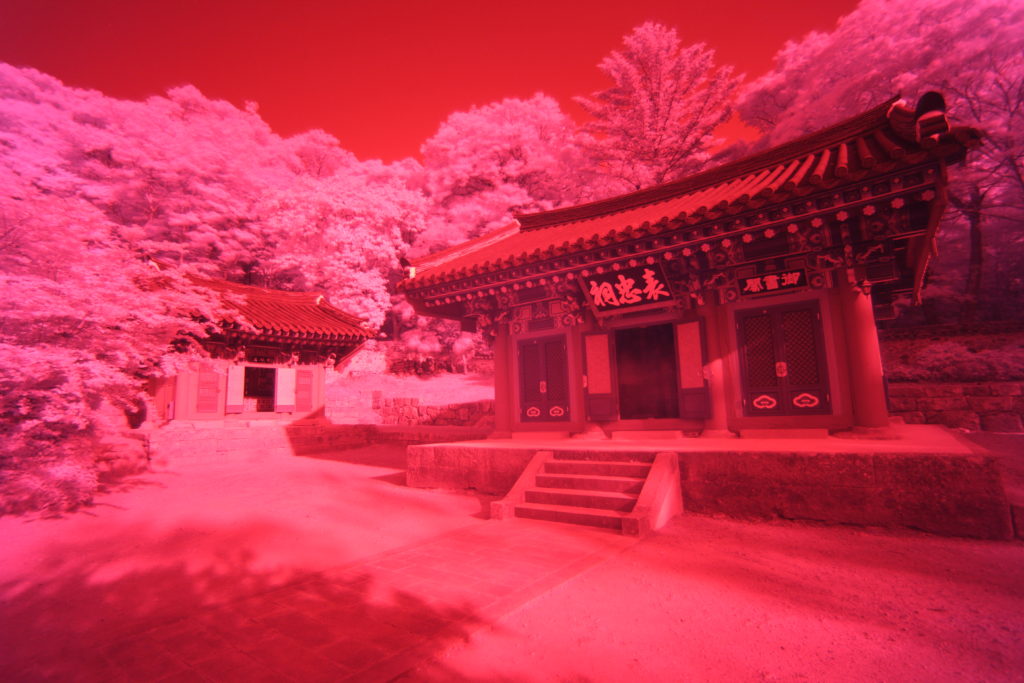 Processing infra-red photos shot in AWB
This is my post processing technique for this type of shot, though there are other methods out there for obtaining similar results. I'd also mention that each image is going to be different, and I've found you need to play around quite a lot to get a desirable result. Here is a step by step guide for you to follow –
Import your image into photoshop, if you shot in RAW make any adjustments to the image you feel necessary here.
If you wish you can select the "auto tone" adjustment, this will get you near to the final result. To do this go to image>auto tone.
Now you will need to use the channel mixers to give the image an infra-red "look". To do this create a new adjustment layer by going to layer>new adjustment layer>channel mixer.
The next step is to reverse the red and blue channels. You will need to select the red channel, and take the red slider down from +100 to 0, and the blue slider from 0 to +100. Then select the blue channel, put the red slider up from 0 to +100 and the blue slider down from +100 to 0. Now this is where you need to use your judgement, as these adjustments are crude. You may need to adjust the sliders for the red and blue channels to suit the image your processing.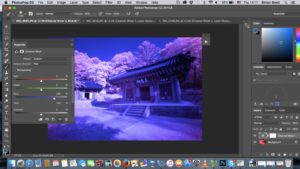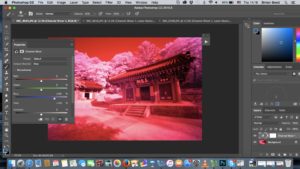 Once you are satisfied with your image through channel mixing it's time to move on to Niks color efex. Open Niks efex and choose the white neutralizer. The white neutralizer does a similar thing to in camera custom white balance, and sets the white balance of vegetation to white. In post processing you have more control over this though, and can adjust the strength of the effect as needed. In order to make the vegetation white click the eye dropper tool, and select an area of tree leafs or grass. Now you can use the sliders to increase of decrease the effect of this change, and there is a second slider that allows to to only effect vegetation or you can effect the entire image.
Now you should have an image with white vegetation and blue looking skies. Additional adjustments can be made to boost contrast. You could experiment with the tonal contrast, detail extractor or the brilliance/warmth filters to further enhance your image.
If you prefer to have a black and white infra-red image then converting it to black and white can also be done. You could stay in Nik's colour efex and use the BW conversion filter, or you could save the file and use the Nik's silver efex program which is built for black and white image conversion.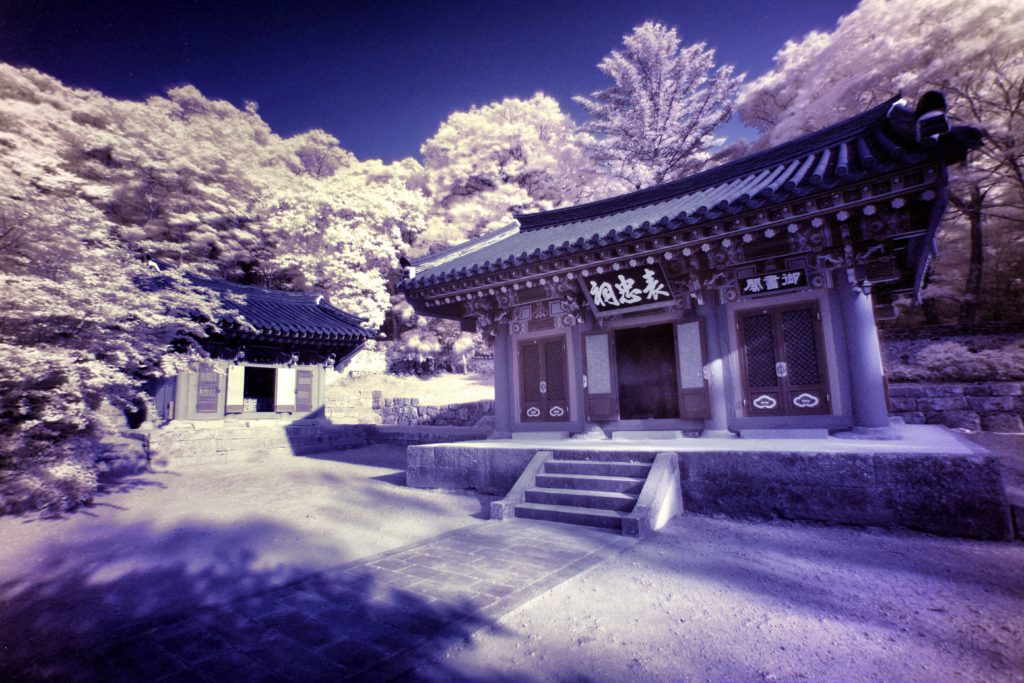 Processing images shot in custom white balance.
You should have an image that is close to the finished product if you used the in camera custom white balance for an infra-red image. Your options are more restricted though, and you'll be creating a sepia like infra-red image, or converting it to a black and white infra-red image.
Use your post processing program of choice to desaturate the image, the liklihood is that the sky is too "orange" looking at this stage, and desaturation will help. At this stage you could completely desaturate the image, and make it black and white or leave some colour and go for sepia tones.
If you're using photoshop you may wish to increase the contrast at this stage by adding a new adjustment curves layer. Go to layers>new adjustment layer>curves. Once you have the curves layer create an S-curve with it, and this will boost the contrast of the photo.
Now open up Niks color efex. If need be use the white neutralizer filter to remover any remaining color cast from the vegetation, by selecting vegetation within your image use the dropper tool.
Still on niks color efex again you can use filters such as tonal contrast, pro contrast, brilliance/warmth and the detail extractor to enhance your photo. If you chose to keep some colour in the image take care to ensure filters such as pro-contrast don't over-saturate the image again, and use control points as necessary.
If you're going to make this a black and white image you may choose to skip step 4, and instead use Niks silver efex for further post processing. There are a range of filters you can use, but the push processing filter often works best, and produced similar results to the color efex pro-contrast filter. Further adjustments to the toning and contrast of the photo can now also be made.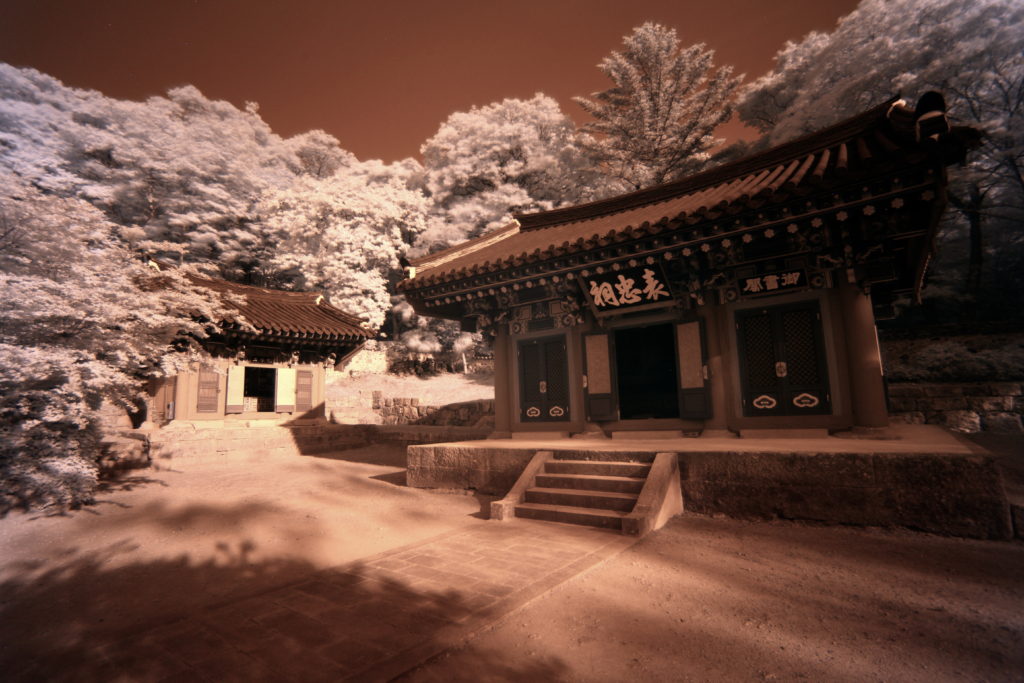 OK I hope you enjoyed this and the last post on infra-red photography, and find this a useful resource. If you have any further queries please leave a comment below.

We value your privacy and would never spam you