It's that time of year again, and with the year coming to an end I thought I'd share my most important photos of 2016. I'm really looking at the photos that have influenced the direction of my own photography, but also have had an impact on others. It's been a great year with possibly light painting being the biggest developmental step for me. I hope you enjoy the 10 pictures I've chosen, they're chosen to be an eclectic mixture of styles. That's the reason I chose my 10 most important photos of 2016, as opposed to my favourite photos of 2016.
1 – Light painting with the pixelstick.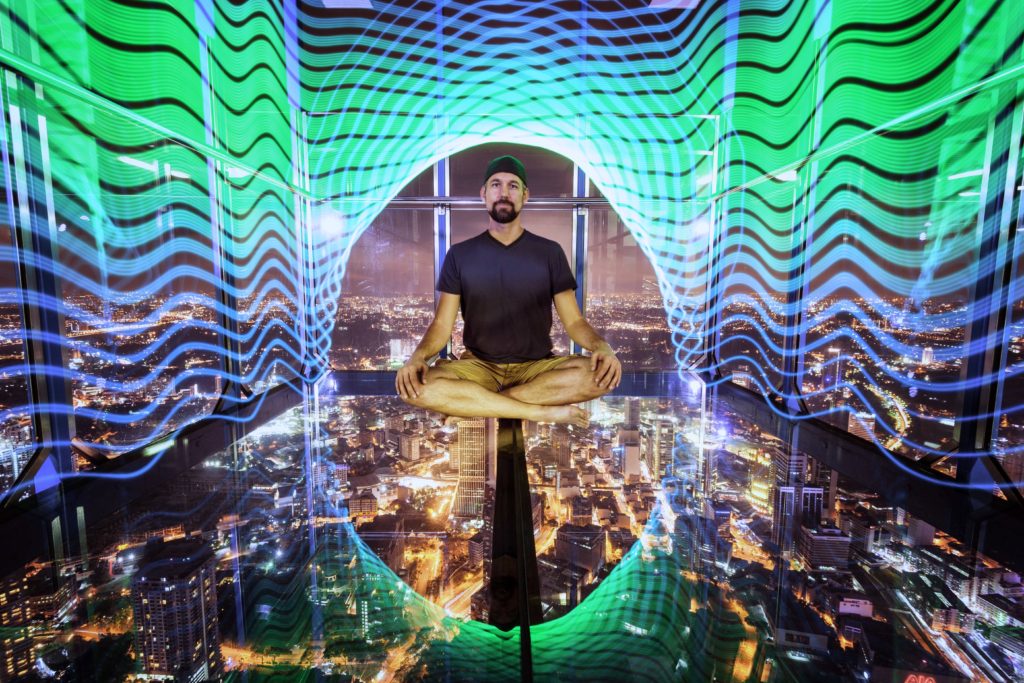 Light painting is something I've been looking to explore for the last couple of years now, and in the second half of 2016 I really started to make big improvements in this area. That in no small part is down to me buying a piece of kit called the pixelstick. In this photo I utilized the reflective glass surface at the observation deck of KL tower, and my friend Pete DeMarco kindly posed for me in this photo. In fact myself and Pete collaboarated quite lot on pixelstick related photography, culminating in out Penang illuminated video.
2 – Volcano exploration in Indonesia.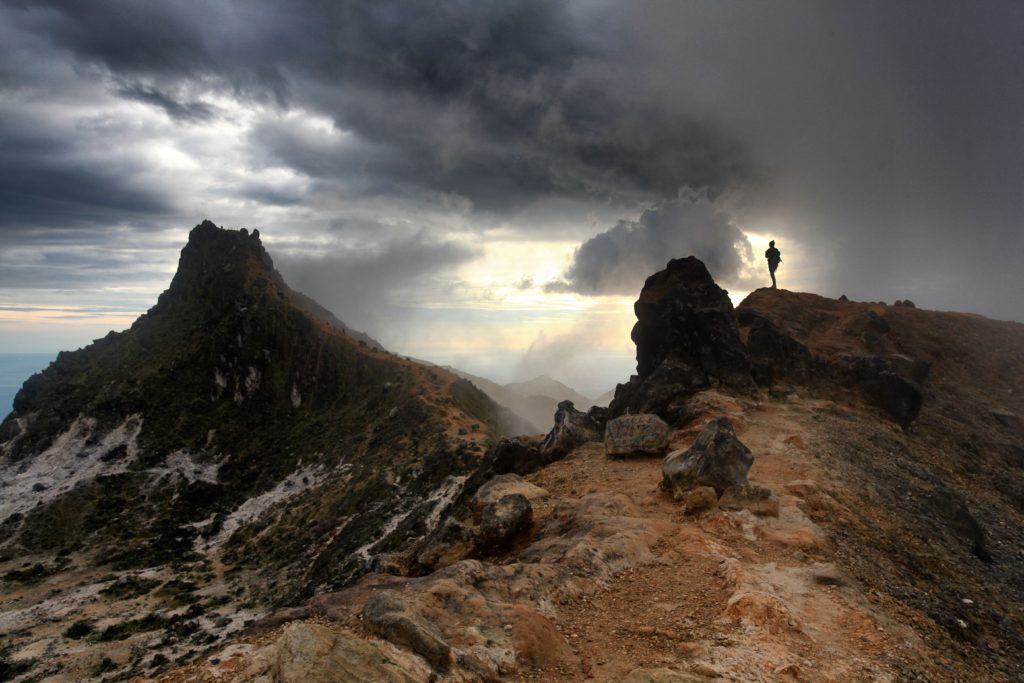 Since I was a kid I've been fascinated by volcano's, and last year I got to see an erupting volcano. I hasten to add I was a safe distance from the eruption, and of course when these eruptions occur I hope others are similarly careful. I've been traveling for a long time but there is nothing like standing on a volcano to give you a feel for the awesome power of nature. Even when the volcano is in a dormant phase they have an otherworldly feel to them. This photo was taken on a morning I woke up to see sunrise from Mount Sibayak, a trip you can organise through several vendors in Berastagi, including Nachelles homestay.
3 – The floating crystal ball!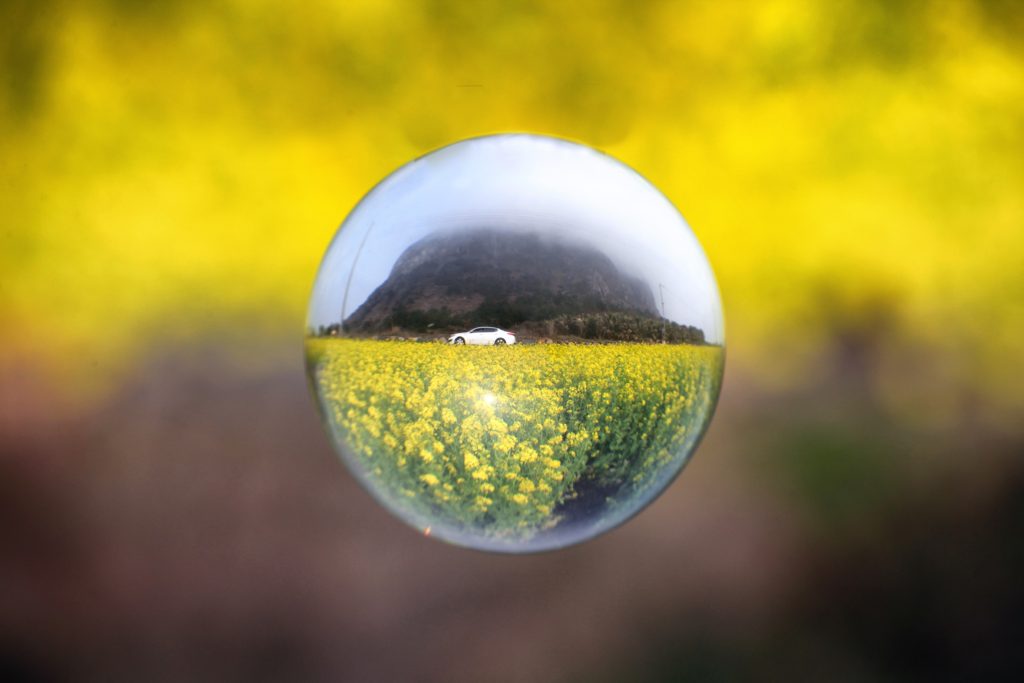 The photos I've taken with the crystal ball are an ongoing project for me, and just as important as the light painting. Every so often something needs to be added to a series to freshen it up though, so working on my photoshop skills to combine several images together I have produced an image where the ball appears to be floating. The ball is in fact set on a tripod, and to find out more about this technique how about downloading my course? You can also learn more about refraction photography through my article for digital photography school.
4 – Visiting Australia!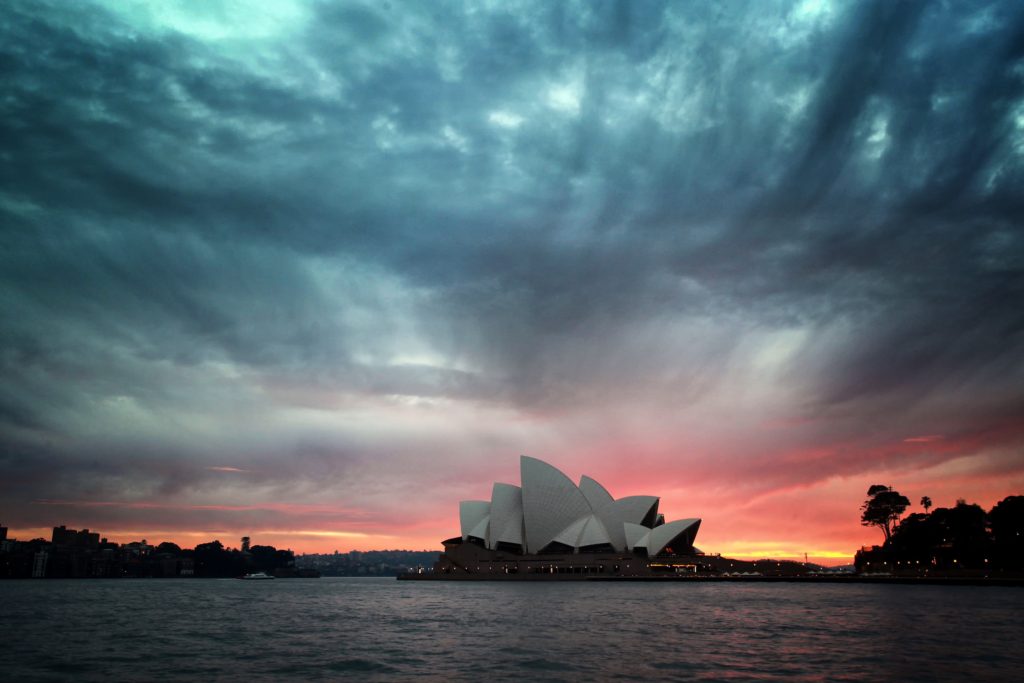 I got to visit Australia for the first time in 2016, it's a great country for photography. In the future it would be great to go back and explore more of this country. This photo was taken at sunrise, a shooting time I've been utilizing more often in recent years. It's a good job I got up that morning as I was rained out for the majority of the rest of my free time in Sydney.
5 – My first trip to New Zealand!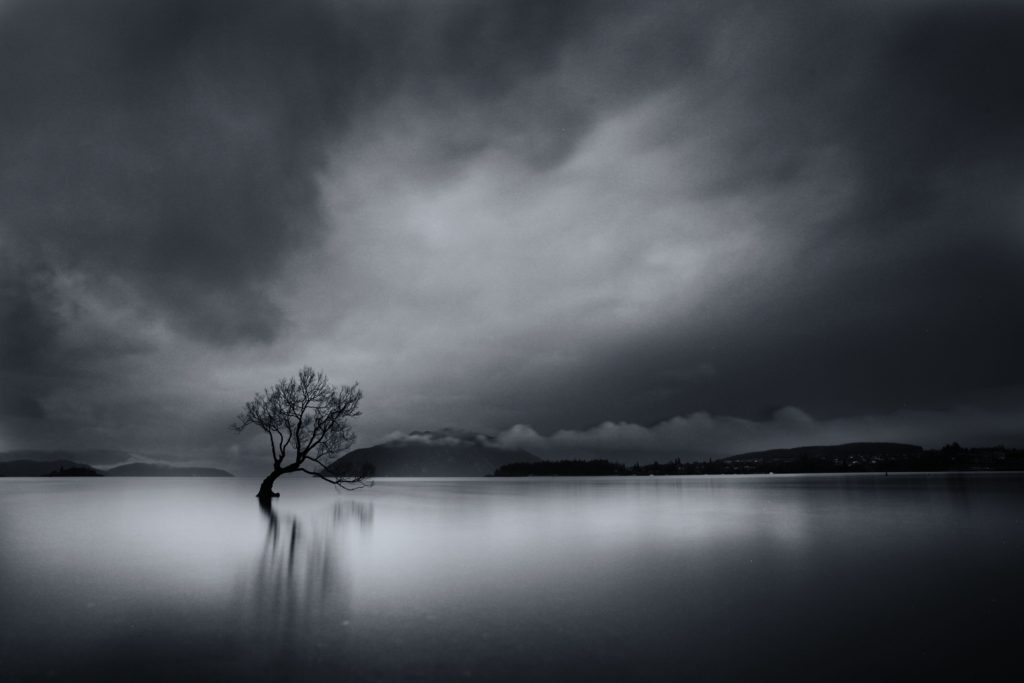 As with Australia my time in New Zealand was too short, and it's somewhere I'd love to visit again. Still in the short time I had there I made sure to visit this place, and photograph one of the most iconic trees in the world. It rained a lot that day, and you can still see the clouds clinging to those mountains. Still I took my chance when the weather improved, and those rainy skies made for a very moody scene when I took the photo. In such a short time I had a lot of good experiences in New Zealand, I can't wait to enjoy Queenstown's mighty Ferg burger again!
6 – Travel for teens!
A real highlight of my year has been working with travel for teens, who organize trips around the world for teenagers. The opportunity to visit New Zealand and Australia came about due to them, and I met a lot of amazing people in the summer. As well as travel working for this company gave me plenty of chances to take photos, in fact is a big part of the job to do just that. I'm looking forward to 2017 now where I'll be leading trips to London, South Korea and hopefully some more destinations as well.
7 – The government protest against Park Geun Hye in Seoul.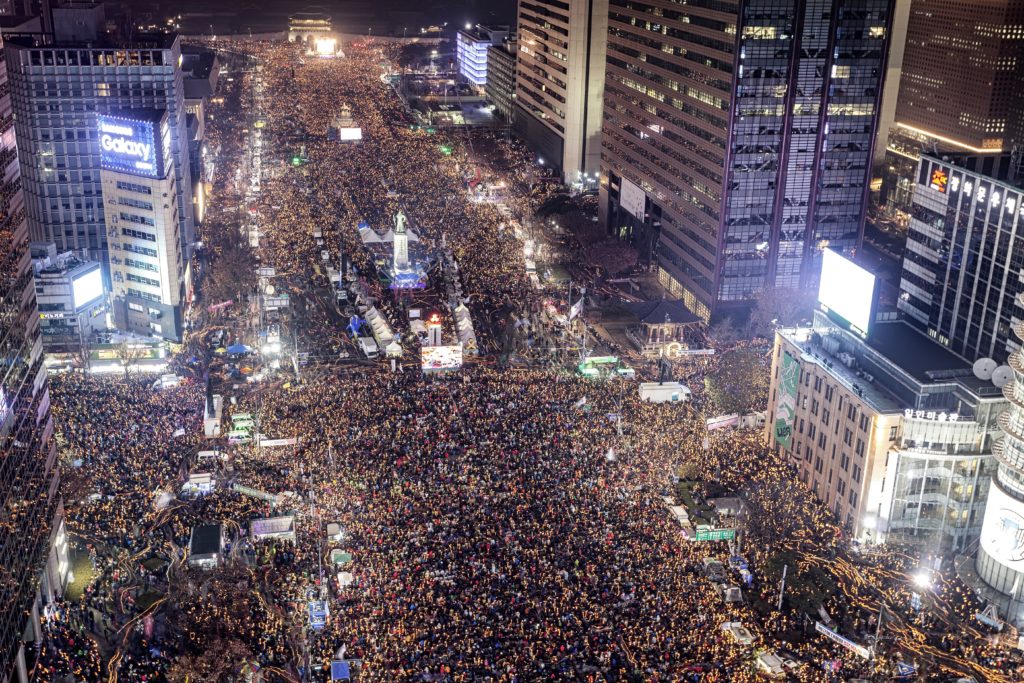 Every so often when I get a chance I like to flex my photo-journalistic muscles. The government protest in Seoul was the ideal chance to do that, and I knew I had to go big or go home. With a little luck I managed to snatch this photo from the roof top of one of the hotels in downtown Seoul, the fact I maybe shouldn't have been up there doesn't come into it for photojournalism…. the fact is I got the shot. Hearing the crowd cheer at something while I was on the roof was one of those things I'll never forget, it was spine tingling.
8 – More articles published in magazines.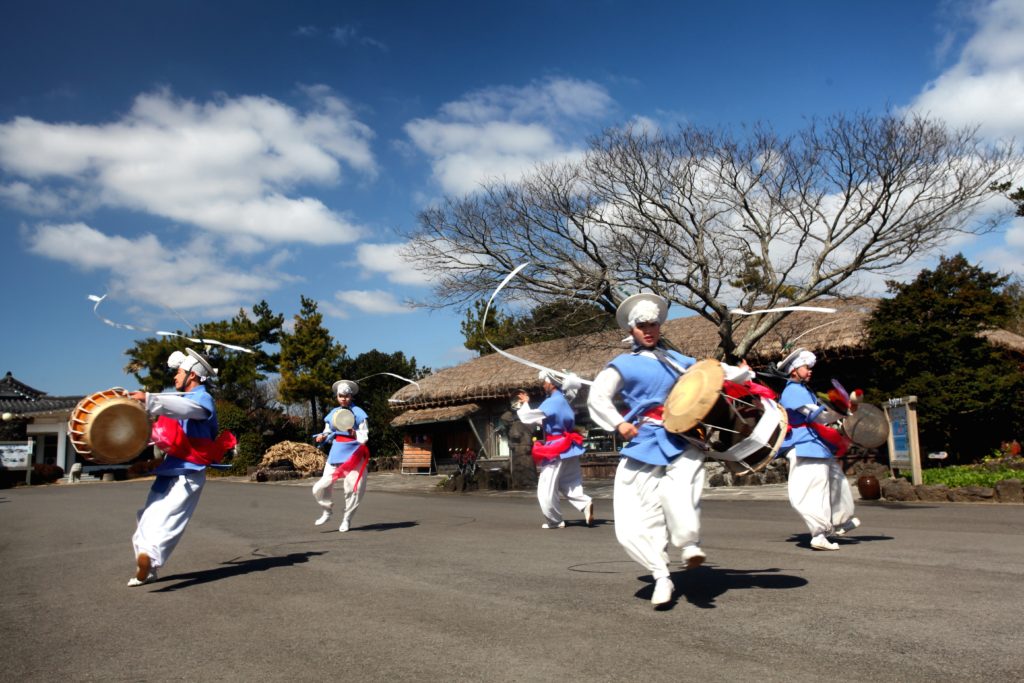 It turned out to be a fairly quite year for me in publishing, with other projects taking up more of my time. I have more work in the pipeline for 2017 though, and it's good to keep this line of work going. The photograph above is the double page spread for an article I did on a Jeju island dancing troupe. I also got the front cover for this story, and as always it was great to meet so many nice people when covering this story. Next summer I'll be seeing them again as part of the travel for teens trip to South Korea.
9 – Kinetic light painting in Seoul.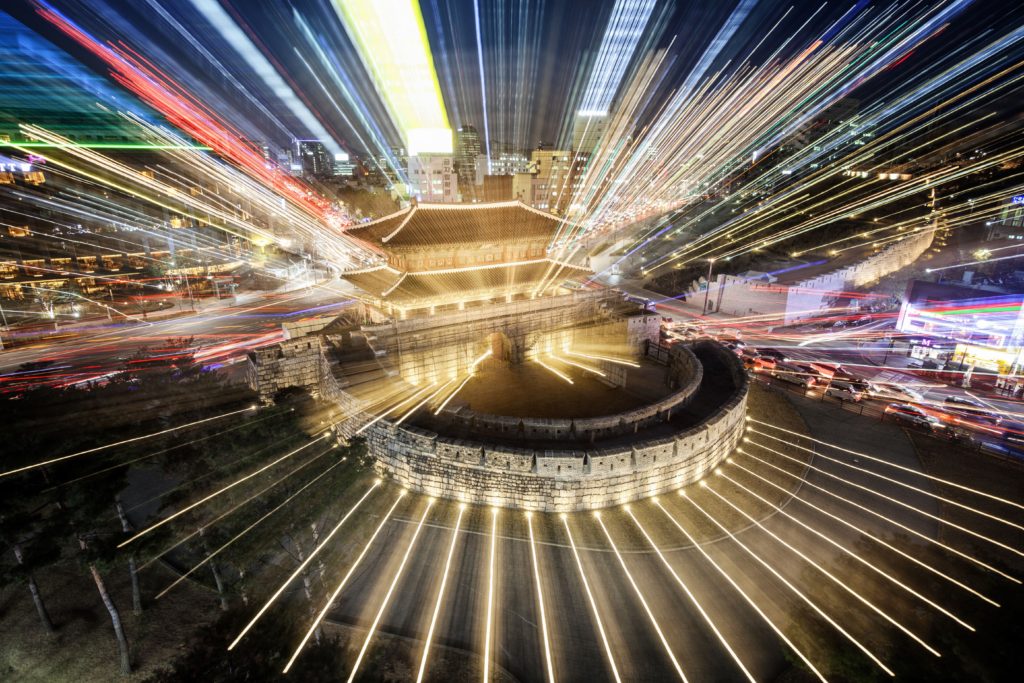 I keep coming back to this technique, which is a form of kinetic light painting. Giving photos more energy and impact is something I like about this type of photo, and it's cousin lens rotation. I'll be aiming to put out a new tutorial in 2017 on light painting, so watch this space for how you can go about taking the above photo. It's important to get the basics right in photography of course, but branching out creatively with photography and trying techniques such as the zoom burst is equally important.
10 – Improvements in post processing.
In all forms of life you should be looking to improve yourself, and so for me in 2016 I've worked on my post processing. I still feel I can get better at this, though the above example shows I can produce good results in this area of photography. You'll find every scenario is slightly different when it comes to get post processing right, what's satisfying for me is I'm more consistently getting techniques such as digital blending right. This photo is a combination of several photos to produce the one shot, taken on the same evening at the same location.
So as I hope you can see 2016 has been a good step forward for me, and I'm looking forward to 2017 now. I hope you'll join me on that journey by signing up to my mailing list.