It's great to bounce idea's off other people, and so when an opportunity to do a photo-shoot presented itself I invited a couple of my friends along. Everyone brought something to the party, a kind of potluck party for photographers. Well not quite luck if I'm honest, we planned what everyone would bring. The photographers who came along were myself, Pete Demarco, Matt Brandon and Vijiakumar Shunmugam, (VJ for short). Also present were my wife Jayoung, Pete's partner Nayoung, Chysmic Qmin our model, and Qmin partner Yaan Sin Lee.
Simon Bond – The light painter
I've had a pixelstick for several months now, shamefully it's been gathering dust as I worked on other projects. Not so long ago I started working with it again, I wanted to do some work with a model. This whole photoshoot was organised on the basis of a light painting photo that VJ saw on my facebook feed, so I asked him if he'd organise a model. The aim of the light painting was to contextualize our model by painting light shapes, and swirling patterns with our model in the frame.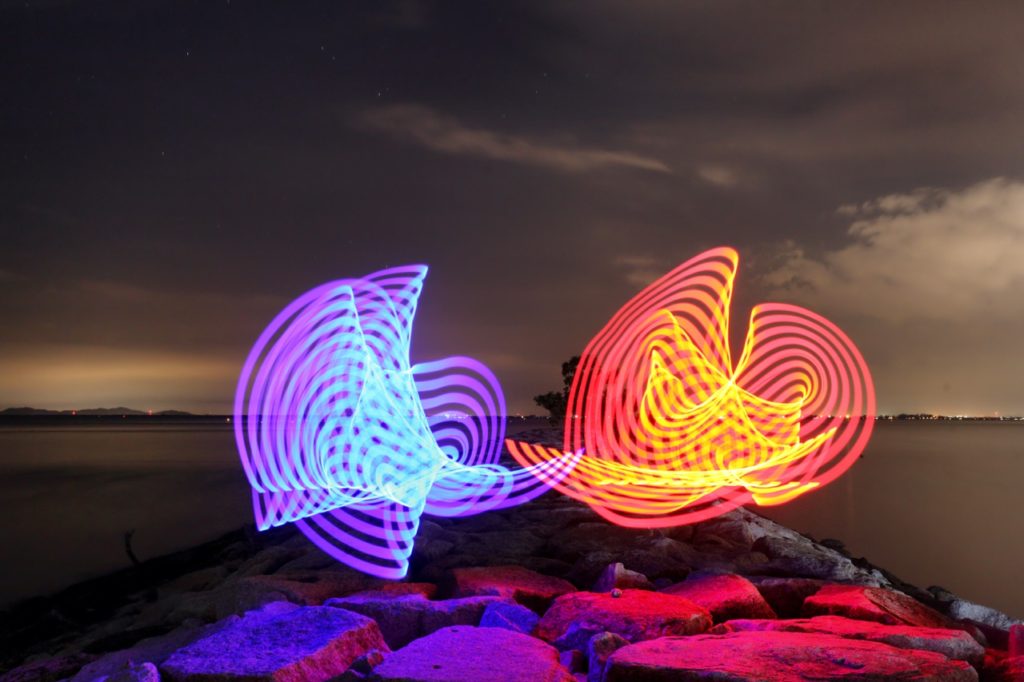 What is a pixelstick?
The pixelstick is essentially a long pole with LED lights along it's length, each can be programed to emit light of differing colours and intensity. When put together it measures 73 inches (187cm), about the height of an average person. This equipment is incredibly versatile and can be used to paint pictures, ribbons or even flames. In tonights set of images things have been kept simple, and ribbons were used as they create nice patterns.
How do you light paint?
A great blog was written about this by my friend Pete, and you can see that here. The main idea is to move through an exposing photograph while the light you are painting with is turned on. It's a good idea to pre-plan the shape you want to make in your mind before you do it, and keep the shape simple. A great piece of advice Matt has is to "slow down" when taking photos, something that's especially true when painting with light. The rocky surface we shot on was difficult to navigate at night, and being on a 10 second time limit to complete the light pattern puts you under pressure. The old adage less haste more speed really applies here. I'll be writing a series or articles in the future about light painting for digitial photography school, and it's for that reason I'm not going to elaborate more on the subject here.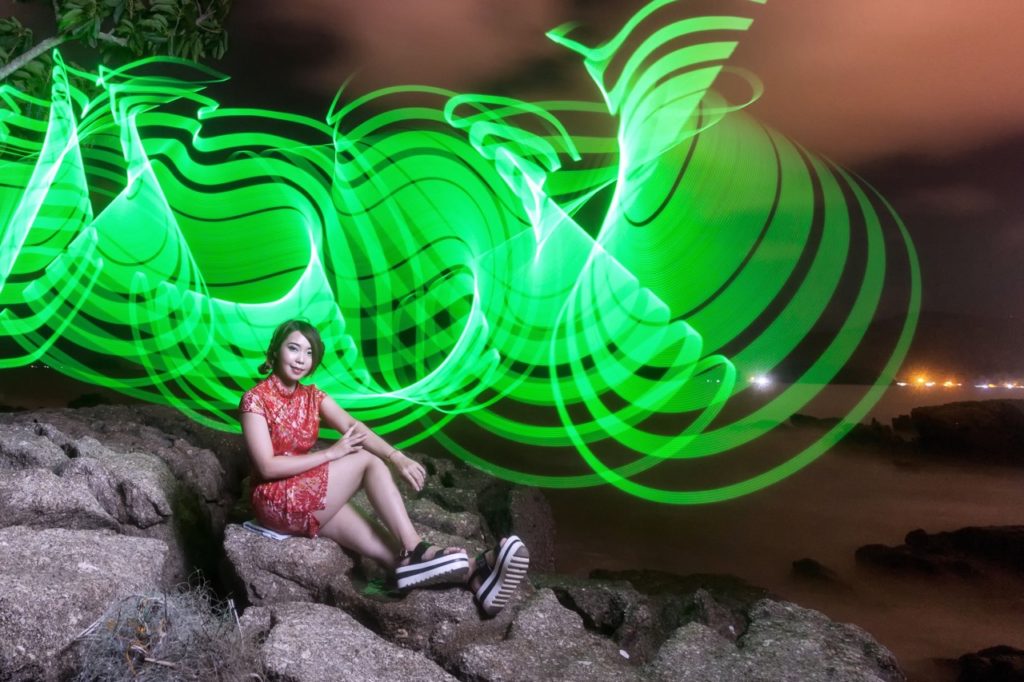 Matt Brandon – The strobist
I introduced Matt in my last post, he's a big hitter in the photography world and was recently involved in the 5 day deal. I was excited to have Matt in our group, especially for his portrait expertise. I'd seen some of his work already from India, where he had used a lighting rig to get some amazing results. Today Matt was bringing his Jinbei 600 flashgun with him, that's some significant light! We arranged to meet earlier for some portrait work with golden hour light, bearing in mind how bad the weather has been of late we lucked out with the evening we chose. The fact Matt proclaims to have a phobia of off camera flash is contradicted by the quality of the photos he produces with this lighting technique. I must also admit to having very similar feelings to Matt about using off camera light, even though I've come to use it more and more often. I'm thankful to Matt for getting the settings for our shoot right here, he spent the first few moments practicing with Pete's girlfriend Nayoung. I think some of the strongest frames of the day were taken during this impromptu photo-shoot, with Matt first exposing for the sky, and then adding in the flash. Our model Qmin later asked if we could take a few couple photos as well, which we were more than happy to do.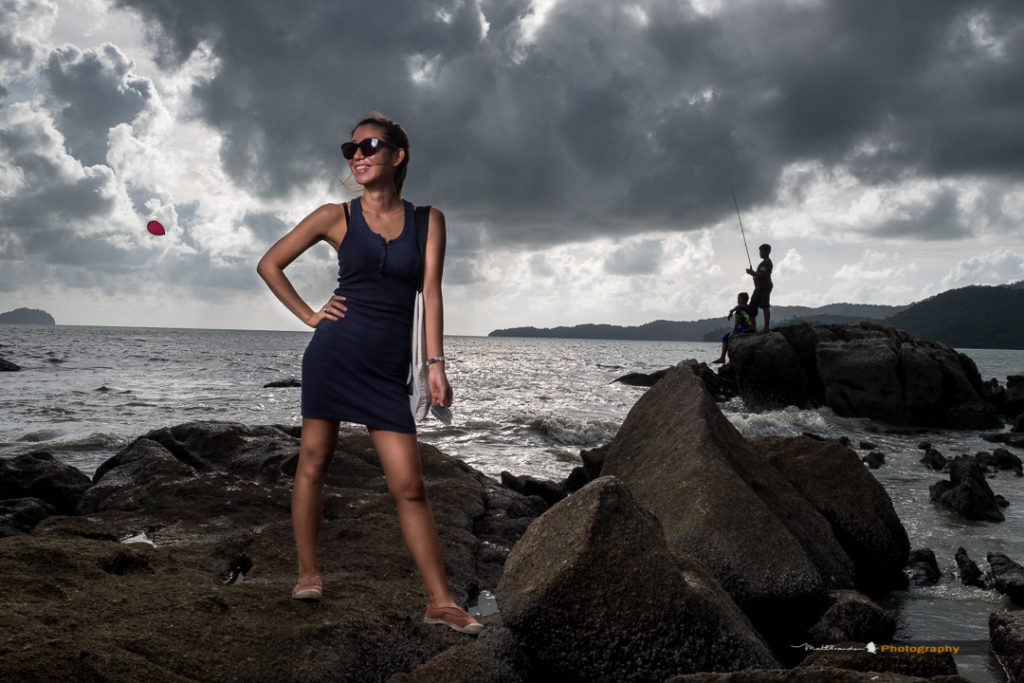 The Jinbei 600 lighting rig
I must confess I now want this, even though it weighs 2.5kg I'd also consider traveling with it. The jinbei 600 really packs a punch with it's 600w of light, allowing you to shoot into, and overpower the sun. With the work I do as a travel photographer this is certainly something that would allow me to up my game even more. When combined with a softbox the light this thing produces is really nice, and really makes those portraits pop. When I came to shoot with Qmin and her boyfriend I went for overhead light, as i wanted to light them and have the sun popping through in the middle. After a short play with this kit I'm sold, it won't be all that long before i add this equipment to my set.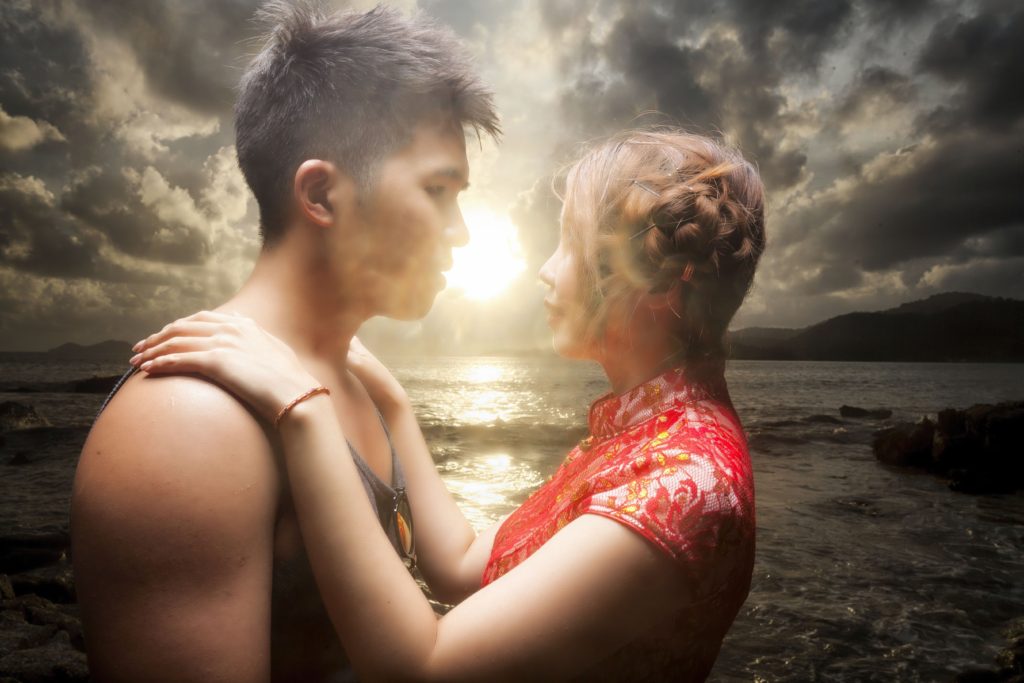 Pete Demarco – The videographer
My friend Pete is exploring video more these days, and his new toy is a gimbal. The gimbal makes keeping a video camera steady into childs play, it's used in drone photography to prevent camera shake. Pete's contribution to our party was to record the evening for prosperity; he was also there for a long exposure seascape photo, though we didn't get too much of a sunset. You can check out Pete's video below, it meshes together the different parts of the evening very nicely. Pete's aiming to do some more of these behind the scenes videos of our photography sessions, and it looks like he'll be putting together some very professional looking packages in the future.
Vijiakumar Shunmugam – The fixer
VJ is fairly new to photographer, and is keen to learn. He asked me to show him how to light paint, so we organised this session together. Although VJ was one of the photographers in our group, he also acted as a fixer. It's really important to know someone local who can help set things up for you, and in this case VJ helped us find a model, and that was Chrysmic Qmin. How did i meet VJ? Well I did something that you should always look to do when you travel, and that's join a local photography group.
Chrysmic Qmin
Qmin was our model for this shoot, we got some great photos with her. She had come along with her boyfriend, so whilst there we got some couple photos as well. Again we planned ahead with Qmin a little, and specified a dress colour and hairstyle for the occaision.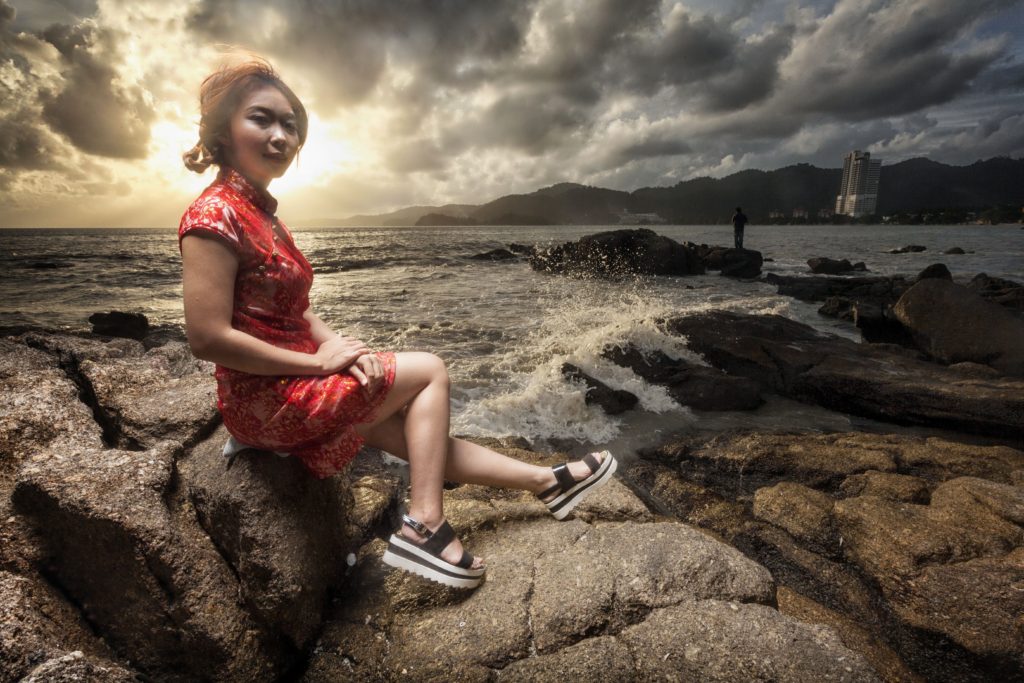 The party – A creative mix
So with all of the above elements in place we were able to experiment much more than would be possible if you shoot alone. Each person in the group brought something to the evening, and allowed us to get results that would otherwise not be possible. It was also interesting to watch the other guys do some light painting, they clearly watched me and learned from that. I'd say that having watched their light paintings I learned some new ideas myself, which I'll look to take into my next shoot.

We value your privacy and would never spam you